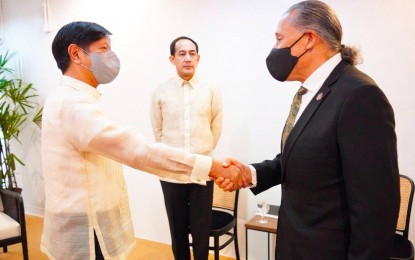 MANILA – President-elect Ferdinand "Bongbong" Marcos Jr. on Friday guaranteed that human rights will be protected during his watch.
Marcos made the vow during his meeting with United Nations (UN) Resident Coordinator to the Philippines Gustavo Gonzales at his headquarters in Mandaluyong City on Friday.
Gonzales, on the sidelines of his meeting with Marcos, said the President-elect emphasized the need to ensure a "high level of accountability" for human rights violations.
"On human rights, my message was to, first of all, reiterate the support of the United Nations to all the efforts of the Philippines on the human rights agenda," he said. "He (Marcos) mentioned also the importance of ensuring a high level of accountability in terms of human rights."
Gonzales said Marcos also bared that there has been a series of consultations to uphold and protect human rights in the Philippines.
"He even shared that he is conducting a number of consultations to ensure the best way of supporting the human rights agenda. So this was quite encouraging," Gonzales said.
During their meeting, Marcos also expressed his intent to participate in the 77th session of the UN General Assembly (UNGA) in September this year, said Executive Secretary-designate Vic Rodriguez in a separate statement.
"President-elect Bongbong Marcos said in response that it would be very important to attend and represent the Philippines in the General Assembly and meet with other world leaders,'" Rodriguez said.
This, after Gonzales discussed the preparations for Marcos' possible attendance at the UNGA in New York.
"This UN general assembly meeting will be the first time that the President-elect Ferdinand Marcos Jr. will be in front of an important number of heads of state. So, this is a great and -- I think -- a historic opportunity for the President and for the Philippines to share the new vision, the new challenges and at the same time the new opportunities," he said.
Marcos and Gustavo also talked about the peace and development in the Philippines, as well as the climate crisis and resilience of the country.
The UNGA's 77th session is scheduled for September 13 to 27. The first day of the high-level General Debate is set for September 20.
US Deputy Secretary of State Wendy Sherman on Thursday said Marcos, as head of state, is free to go to the US since he can invoke his diplomatic immunity.
Gustavo was one of the five diplomats who paid a visit to Marcos.
The others include Ambassadors Annika Thunborg of Sweden, Charles Brown of the Holy See, William Carlos of Ireland, and Alain Gaschen of the Swiss Confederation. (PNA)