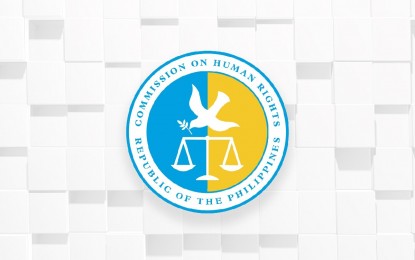 MANILA – The Commission on Human Rights (CHR) on Saturday reiterated the importance of accountability in addressing human rights issues in the country.
In a statement on Saturday, lawyer Jacqueline Ann de Guia, CHR executive director, welcomed the recent pronouncement of President-elect Ferdinand Marcos Jr. to "ensure high-level of accountability" for human rights violations.
Marcos on Friday met with United Nations (UN) Resident Coordinator in the Philippines, Gustavo Gonzalez, and discussed the UN Human Rights Council resolution in 2020 that offered "technical assistance" to the Philippines to address human rights problems.
Gonzales said Marcos immediately raised the topic of human rights.
"It means the UN and the government need to work together in addressing some concerns on human rights, and he's very much interested, for example, in ensuring a consultation for the nomination of the new Commission on Human Rights," Gonzales said.
De Guia cited the UN Joint Program implements the Human Rights Council Resolution 45/33 adopted in October 2020 meant to carry out capacity-building and technical cooperation for the promotion and protection of human rights in the country.
"The Commission on Human Rights welcomes this statement from President-elect Marcos Jr. and looks forward to the support of the incoming administration to initiatives advancing the human rights cause in the country, including the UN Joint Program on Human Rights," said de Guia.
"With the said expression of support, CHR hopes that respect and protection of human rights will be part of the main agenda of governance of the incoming administration; thereby, uplifting the lives of all Filipinos," De Guia said.
Policy vs. red-tagging
De Guia, meanwhile, lauded the statement of incoming National Security Adviser, Dr. Clarita Carlos, urging an end to red-tagging.
Citing a CHR report on the Situation of Human Rights Defenders in the Philippines in 2020, former UN Special Rapporteur on Extrajudicial, Summary or Arbitrary Executions, Philip Alson, described red-tagging or red-baiting as the vilification, labeling, or guilty by association that "involves the characterization of most groups on the left of the political spectrum as a front organization for armed groups whose aim is to destroy democracy" and as "enemies of the State".
De Guia noted that CHR has long cautioned against the harms of red-tagging, which range from harassment and intrusion to one's right to privacy to graver ones that include unlawful arrests, enforced disappearances, injuries, and even killings.
"Instituting a policy barring red-tagging will go a long way in protecting the life, liberty, and security of various individuals and groups, especially those unfairly labeled," she added.
Hence, she praised the proposal of Carlos "to instead focus on the government's efforts in addressing inequalities and lack of opportunities on the ground that drive the insurgency".
The government's National Task Force to end Local Communist Armed Conflict (NTF-ELCAC) gathers sworn testimonies from rebel returnees and relays the information to the public.
The NTF ELCAC said "no one is red-tagging" as former communist rebels themselves are identifying the connection of front organizations with the Communist Party of the Philippines-New People's Army-National Democratic Front. (PNA)