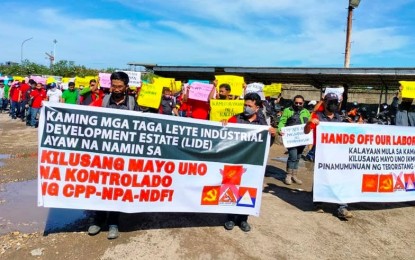 TACLOBAN CITY – A labor group in Leyte province organized by the Communist Party of the Philippines (CPP)-led National Federation of Labor Unions – Kilusang Mayo Uno (NAFLU-KMU) formally pledged allegiance to the government on Sunday.
Members of the Nakahiusang Progresibo ug Demokratikanhong Mamumuo sa Philphos (Naprodmaphil), a labor union of the workers of Philippine Phosphate Fertilizer Corporation (Philphos) in Isabel, Leyte held indignation rally, criticizing the CPP-New People's Army (NPA), the Philippine Army's 802nd Infantry Brigade said in a statement on Monday.
"We are now celebrating our move to leaving the NAFLU-KMU because we already discovered the wrong-doings of the people who are behind the union. That is why starting today, we (the union) promise the government our 100 percent support, we will never again support any activities of the Communist because everything they did does no good," said Jimmy Suarez, one of the union members during the rally.
Another union member, Michael Cangcutan, is also grateful for the opportunity given by the government in support of their move to abandon and disaffiliate them from the CPP-led organization.
"For many years of being in the Kilusang Mayo Uno, we have not received any help that can alleviate our way of living. Now, that we are free from being manipulated by these terrorists, we are hopeful that with the government's help, we will now experience a more comfortable life," Cangcutan said.
To show their commitment, the 325 members of the labor union took their oath and signed the declaration of allegiance to the government.
Organized in the 1980s when Philphos launched its operation, Naprodmaphil served as the exclusive collective bargaining agent of the firm's 1,000 rank-and-file employees during its peak.
The Philippine Army reported that the labor groups contributed to the fast growth of the CPP-NPA-National Democratic Front (NDF) in Leyte Island by providing manpower and material support.
For failure of NAFLU-KMU to help the labor groups during the financial difficulties wrought by Super Typhoon Yolanda and other arising concerns of workers, the regional task force to end local communist armed conflict came in to help starting in 2020.
In March 2022, Naprodmaphil held a general assembly affirming their disaffiliation from NAFLU-KMU. The group formally withdrew their support from the left-leaning organization in time of the Philippine Independence Day celebration.
The CPP-NPA is listed as a terrorist organization by the United States, the European Union, the United Kingdom, Australia, Canada, New Zealand, and the Philippines.
The Anti-Terrorism Council also formally designated the NDF as a terrorist organization on June 23, 2021, citing it as "an integral and inseparable part" of the CPP-NPA that was created in April 1973. (PNA)