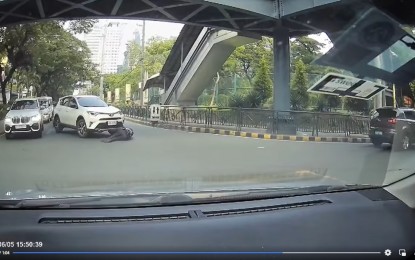 MANILA – Philippine National Police (PNP) officer-in-charge Lt. Gen. Vicente Danao Jr. on Monday dared the driver of the sports utility vehicle (SUV) implicated in the hit-and-run of a security guard in Mandaluyong City to surrender to authorities.
"I challenge you, Mr. San Vicente. You do not want to surrender, right? It only means one thing, perhaps you are an addict. Why don't you want to surrender? Because no person in his right senses will do that. You hit a person, and instead of stopping, you ran over the person," Danao said in a press briefing in Camp Crame.
He said criminal charges were filed against the owner of the SUV, registered under the name of Jose Antonio San Vicente.
PNP spokesperson Col. Jean Fajardo earlier said complaints of frustrated murder and abandonment of one's own victim in violation of Article 275 of the Revised Penal Code were filed by the Mandaluyong police against the owner of the vehicle before the city prosecutor's office.
"Remember, the PNP already filed the case against you and you take note that we are just waiting for the warrant (of arrest) to come out. I am giving you a fair warning," Danao said.
Danao added that this is not the first time that San Vicente got involved in a vehicular accident.
He said based on a background check by the police, San Vicente had a similar case of reckless imprudence.
Security guard Christian Floralde was directing traffic at the corner of J. Vargas and St. Francis street in Barangay Wack-Wack when the SUV, a Toyota RAV 4, hit him.
Instead of stopping to help Floralde, the SUV's driver ran over the security guard and fled from the scene.
The Land Transportation Office has summoned San Vicente twice -- on June 7 and 10 -- but he failed to appear in both hearings. (PNA)