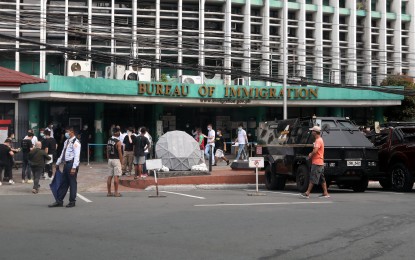 MANILA – The Bureau of Immigration (BI) will implement the dismissal order of the Office of the Ombudsman against 45 of its personnel in connection with the "pastillas" scheme.
"The Bureau has received a copy of the order from the Office of the Ombudsman effectively directing the dismissal from service of 45 immigration personnel and a copy of an order from the Department of Justice (DOJ) dismissing 18 personnel. We respect the decision of the Ombudsman and the DOJ, and will implement the same immediately," said Immigration Commissioner Jaime Morente in a statement issued on Tuesday.
Morente also expressed hope that this will serve as a lesson for the bureau to improve its services and uphold accountability among its personnel.
"We trust that this will be a new beginning for the bureau, as we enter a new chapter in government. We will strive to ensure that the advancements and improvements of the BI will continue in the years to come," he added.
On Monday, the Office of the Ombudsman has ordered the dismissal of 45 officials and employees of the bureau after finding them liable for grave misconduct and conduct prejudicial to the best interest of the service.
Under the "pastillas" scheme, immigration officers receive bribes wrapped in a small white paper in exchange for allowing the illegal entry of foreigners, particularly Chinese nationals, who are allowed into the country without going through the usual immigration procedures. (PNA)