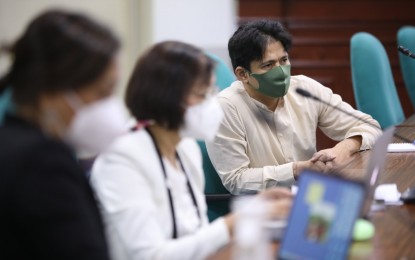 MANILA – Neophyte Senator-elect Robin Padilla still remembers a conversation he had with President Rodrigo Duterte several months back.
Duterte told him that he always has a lot on his mind and likes talking but has no concrete plans.
"Ngayon, eto na ako. Ito na siguro yung inaantay ko (Now, I'm here. Maybe this is what I've been waiting for)," he said in an interview on Tuesday, referring to his win in the Senate where he can push his agenda.
Presumptive Senate President Juan Miguel Zubiri previously announced that the majority agreed to let Padilla lead the Committee on Constitutional Amendments and Revision of Codes and Committee on Social Justice, Welfare and Rural Development in the 19th Congress.
Padilla has finished the "Executive Mentoring on Legislative Governance: Setting the tone for the first 100 Days in the 19th Congress" at the Senate building in Pasay City.
In a subsequent press briefing, he said he learned the basic process before a bill is passed into law, how a committee hearing is conducted, the interpellation process, and how to work with the Senate Secretariat.
"Pinapaliwanag sa akin ano ang hakbang na una kong gagawin at kung ano ba yung mga batas na na-file na, na may kinalaman dun sa gusto ko, sa committee ko (It was explained there the first steps I need to make, laws that were already filed and related to what I want in my committee)," he said.
During the legislative process briefing, Padilla was joined by United Nations democratic governance advisor Demaree Raval and listened to legislation lectures, led by Senate Deputy Secretary Edwin Bellen.
Priority measures
Padilla said he is determined to change the country's form of government into federalism and support bills that will revive the death penalty, especially on crimes related to illegal drugs.
"I should first set up talks between the two Houses. That's the first step. This year, this is the target," he said in Filipino, referring to charter change.
As for the capital punishment, Padilla said he has seen the "underworld" which gives him the authority to talk about the issue.
Padilla was sent to jail in 1994 for illegal possession of firearms and was sentenced to a maximum of eight years.
He was granted conditional pardon by President Fidel Ramos and released from jail in 1997.
In 2016, he received an absolute pardon from President Rodrigo Duterte, who said nobody was hurt by Padilla's actions.
"Nakita ko yan eh, sa loob at labas. Ibig sabihin nung sa labas, nakita ko ang mga biktima niyan [illegal drugs] at sa loob din ng kulungan. Alam ko kung paano din mapupuksa 'yan (I saw how it is, inside and outside [jail]. Outside, I saw the its victims and even inside the jail. I know how to eradicate illegal drugs)," he said.
He believes that the death penalty should not be imposed on the poor. Instead, it should be for people who are well-off but still chose to commit a heinous crime.
"Halimbawa, wala ka namang kaproble-problema sa buhay mo, may pera ka, lahat, pero pumasok ka sa drug dealing. Eh dapat diyan pugutan ng ulo yan (For example, you don't have any problems in life, you have the money, everything, but you went into drug dealing. You should be decapitated)," he said.
The next orientation for rookie senators is set June 28 but there are no confirmed attendees yet as of posting time. (PNA)