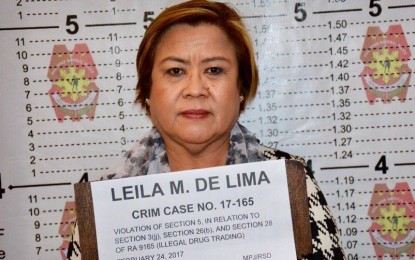 MANILA – The government's cases against outgoing Senator Leila de Lima for her alleged involvement in the illegal drug trade remain strong as recanted testimonies have no bearing yet, Department of Justice (DOJ) Secretary Menardo Guevarra said on Tuesday.
Guevarra told reporters via text message that the panel of prosecutors in the de Lima cases advised him that "after a thorough review of the evidence already presented as well as evidence still to be presented, there is good reason to continue the active prosecution of the senator".
Self-confessed drug lord Kerwin Espinosa, former Bureau of Corrections officer-in-charge Rafael Ragos, and de Lima's co-accused and erstwhile aide, Ronnie Dayan, have gone back on their earlier testimonies, saying they had no dealings with or were just forced to implicate the senator.
Espinosa, who is not among the witnesses against de Lima, recanted following his dropping from the government witness protection program due to numerous infractions while under the National Bureau of Investigation (NBI)'s protective custody, including a botched escape.
De Lima has been jailed at a Camp Crame custodial facility since Feb. 24, 2017 for allegedly collecting campaign money contributions from jailed drug lords through conduits while she was still DOJ secretary.
"As far as the retractions of certain persons are concerned, the prosecution takes the position that until these persons are actually presented in court for examination to ascertain their truthfulness, their alleged recantations have no probative value whatsoever. In any event, the final say on the disposition of the cases rests on the judge alone and no other," Guevarra said.
Meanwhile, Prosecutor General Benedicto Malcontento said state lawyers will not oppose de Lima's request for a medical furlough.
"We will not object, subject to usual protocols only," Malcontento said, referring to security arrangements, barring media interviews regarding the merits of the cases, and submission of reports on medical procedures.
Guevarra said he also took up de Lima's case with his successor, Crispin Remulla.
"It's up to Cong. Remulla but I think he will also be guided by the assessment of the panel of prosecutors who are actually handling the trial of the cases," Guevarra said.
In a statement on May 18, de Lima said she wants the fake drug cases against her "to first be put to an end to ensure her freedom".
"I will now have to focus on the dismissal of the fabricated drug cases against me so I can finally be released," she said. "It may have taken years of injustice and persecution, but truth and justice will always prevail. It has no timeline." (PNA)