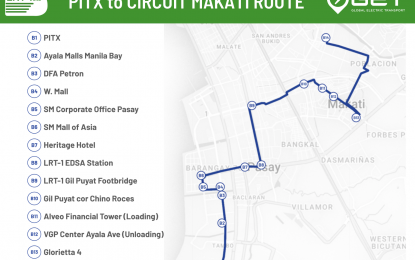 MANILA – Members of the Light Rail Transit Line 1 (LRT-1) Riders Club may now enjoy an extended shuttle service route from the Parañaque Integrated Terminal Exchange (PITX) to Makati City and vice versa.
In a statement on Tuesday, the Light Rail Manila Corporation (LRMC) -- the operator and maintenance provider of the LRT-1-- said the service is available for the exclusive use of LRT-1 Riders Club members through the GETPASS mobile application (app).
"The shuttle service route will now be extended to Circuit Makati (Ayala Malls Circuit) with LRT-1 Gil Puyat Footbridge and select areas going to Makati Central Business District and Ayala Malls Circuit as additional designated loading/unloading points," the LRMC said.
The shuttle service was launched in March and previously ran from LRT-1 Edsa Station and the Manila Bay Aseana area with loading and unloading points along Macapagal Boulevard to PITX.
Through its partnership with the Global Electric Transport (GET) Philippines, it said the shuttle service features the Community Optimized Managed Electric Transport (COMET), an air-conditioned, fully-electric minibus with a capacity of 30 passengers and a travel range of 100 kilometers in a single charge.
The service will be free for all LRT-1 Riders Club members from June 15 to 30.
Those interested may join by downloading and signing up through the GETPASS app.
"Members just need to simply present the GETPASS App upon riding the COMET minibus to avail the limited-time offer," it said.
After the free period, LRT-1 Riders Club members may purchase membership passes on the GETPASS app -- PHP50 for a day pass, PHP150 for a week pass, and PHP500 for a month pass.
"The membership pass also provides access to ride the COMET buses in other routes within the GET Philippines network," it said.
COMET buses operate from Mondays to Saturdays excluding holidays, with the first trips leaving PITX at 6 a.m. and Circuit Makati at 8 a.m.
The last COMET buses are scheduled to leave PITX at 5 p.m. and Circuit Makati at 7 p.m. (PNA)