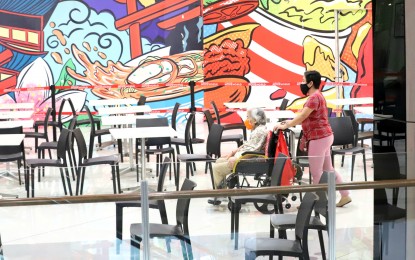 MANILA – The proper wearing of face masks must be observed amid the coronavirus disease 2019 (Covid-19) pandemic, Malacañang told the public on Tuesday.
In a press statement, acting Presidential Spokesperson and Communications Secretary Martin Andanar reminded the public that there is no directive from President Rodrigo Roa Duterte to lift the mandatory use of face masks.
"The Chief Executive's directive is clear: Continue wearing face masks," Andanar said.
Andanar's statement came after Cebu Governor Gwendolyn Garcia on June 8 issued Executive Order (EO) 16, making the wearing of face masks optional in well-ventilated areas and open spaces.
Under EO 16, the wearing of face masks is required only in close and air-conditioned places. The use of face masks in crowded outdoor areas is still encouraged.
The signing of the local ordinance came even though Cebu province remains under Alert Level 2.
On Monday, Justice Secretary Menardo Guevarra said the Inter-Agency Task Force for the Management and Emerging Infectious Diseases' (IATF-EID) face mask policy, which was approved by Duterte, is more binding than Garcia's local directive.
Andanar echoed Guevarra's statement, saying the IATF-EID's resolutions on the mandatory wearing of face masks will prevail over local government ordinances.
"We reiterate and support the legal opinion of the Justice Secretary that the Inter-Agency Task Force resolution on the mandatory wearing of face masks shall prevail over the executive orders by local government units, including the one issued by the provincial government of Cebu," he said.
Andanar added that there is a standing order from the Department of the Interior and Local Government (DILG) to ensure the full implementation of the existing policy which requires the use of face masks in open and closed spaces.
"The Department of the Interior and Local Government has instructed the Philippine National Police (PNP) to implement the existing IATF resolution on wearing of face masks accordingly," he said.
DILG Secretary Eduardo Año said the PNP will continue to "confront, apprehend, and arrest, if necessary," all violators of IATF guidelines and minimum public health standards in Cebu province.
Duterte reiterated that he is not keen on ditching the requirement of wearing face masks until his term ends on June 30.
Under the existing IATF-EID guidelines, the public are still mandated to wear a well-fitted face mask at all times, "whether outdoors or in indoor private establishments."
Face masks can only be removed when people are eating and drinking; participating in team and individual sports in venues where ventilation standards can be maintained; and practicing outdoor sports or exercise activities where physical distance can be maintained. (PNA)