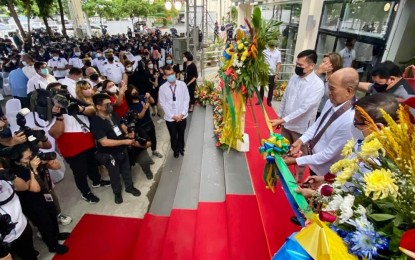 MANILA – The newly completed seven-story Office of Civil Defense (OCD) administration building in Camp Aguinaldo, Quezon City will greatly capacitate the agency in its humanitarian assistance and disaster relief (HADR) missions, Department of National Defense (DND) Secretary Delfin Lorenzana said Wednesday.
"Yesterday (Tuesday) was a happy day for the DND family as one of its bureaus, the Office of Civil Defense PH, inaugurated its new administration building inside Camp Aguinaldo. Built under the DND-DPWH (Department of Public Works and Highways) TIKAS convergence program, the seven-story building will cater to the growing demands of the OCD to do its mandate for HADR and other resilience programs during calamities," he said in a Facebook post.
Lorenzana said its state-of-the-art facilities would connect OCD directly to local government units, making its services more proactive, coordinated, and efficient.
"We thank DPWH under Acting Secretary (Roger) Oging Mercado for the completion of the building on time," he added.
The new administration building is part of the OCD's effort to strengthen internal capacity and delivery of services to the public in the field of disaster risk reduction and management and civil defense.
In a statement Tuesday night, OCD administrator Ricardo Jalad thanked President Rodrigo Duterte's administration for its support for the construction of the facility.
"As we continue to move forward to become a world-class disaster management agency, President Rodrigo Duterte appreciated and saw the importance of upgrading OCD's facilities and infrastructure. Through his support, and as part of his administration's Build, Build, Build program, the construction of the new building was made possible," Jalad said.
He also thanked Lorenzana, the DPWH, and the entire civil defense workforce.
"This achievement would not be possible without the support of our good NDRRMC (National Disaster Risk Reduction and Management Council) chairperson and Defense Secretary Delfin Lorenzana, the DPWH, and every single OCD employee. Maraming salamat sa lahat ng suporta at pagtitiwala. (Thank you for the trust and support.) Let this edifice be an enduring testament to our commitment to the mission of building a disaster-resilient nation," he added. (PNA)