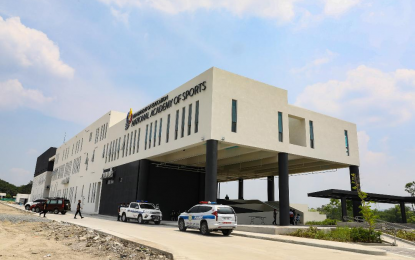 MANILA – Senators Christopher Lawrence Go and Pia Cayetano said they are eager for the National Academy of Sports (NAS) in New Clark City in Capas, Tarlac to receive its pioneer batch of student-athletes after President Rodrigo Roa Duterte did his final inspection on the world-class sports complex on Tuesday.
Cayetano said the country's first sports academy lays the foundation for building a nation of champions.
"The school that was envisioned to produce future world-class Filipino athletes is finally here! The National Academy of Sports in New Clark City has undergone final inspection, and will be ready to receive its pioneer batch of student-athletes this coming academic year," she said in a statement on Wednesday.
Cayetano, the principal author and co-sponsor of Republic Act 11470 or the National Academy of Sports Act in the Senate, said NAS is very close to her heart as a former varsity player and a national athlete.
"I believe in the power of sports to instill discipline and build positive character among our youth, and the ability of athletes to inspire and unite Filipinos by bringing honor to our country," she said.
Cayetano added that NAS will build momentum for the Filipino athletes who have showcased their caliber in the record-breaking feats of Team Philippines in the 2019 Southeast Asian Games and Tokyo Olympics in 2021.
Go, who authored and co-sponsored RA 11470, said he is happy with the establishment of the NAS that will give the opportunity to Filipino athletes to train and hone their skills, not only as athletes but as productive members of society.
He believes that with massive government investment in sports development especially at the grassroots, young Filipinos will be given the opportunity to uplift their lives and bring more honor to the country.
"It is an honor to help provide these opportunities for students who wish to achieve more in their lives and help make a difference through proper education and sports development. During my first month as a senator, I dreamed of establishing an educational institution that would specialize in sports development," Go said in a separate statement.
"Looking back, I am delighted that all the hard work has finally paid off and we are on the path toward sports excellence," he added.
Go also congratulated the province of Tarlac for having the first sports academy in the country and vowed to push for its regionalization to discover more athletes in different provinces of the country.
The NAS offers a secondary education program with an integrated special curriculum on sports which was developed in close coordination with the Department of Education and the Philippine Sports Commission (PSC).
It is equipped with world-class sports facilities, housing, and other amenities at par with international standards.
A sufficient number of classrooms and other facilities were also built inside the complex to provide a conducive learning environment for all the students.
To ensure the international competitiveness of the student-athletes, the academy likewise provides services of licensed and internationally-certified foreign coaches, trainers and consultants, duly certified by the PSC.
The project began on July 16, 2021 and Phase I is expected to be completed by the end of July 2022. Phases II and III are expected to be completed by the end of 2024. (PNA)