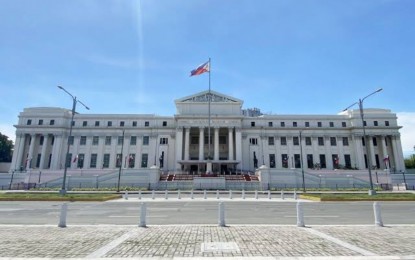 MANILA – Department of Justice (DOJ) Secretary Menardo Guevarra on Wednesday said reasonable regulations including a prior permit does not curtail constitutional rights.
Guevarra made the comment following speculation that groups are out to sow mayhem during the inauguration of President-elect Ferdinand "Bongbong" Marcos Jr. on June 30.
"The right of peaceful assembly, regardless of one's political beliefs or affiliation, is guaranteed by the Constitution, subject to reasonable regulations to maintain peace and order, including the requirement to obtain a prior permit," Guevarra said.
"(A)s long as their statements do not constitute an actionable offense, such as inciting to sedition or oral defamation, rallyists enjoy freedom of expression," he added.
Philippine National Police chief Lt. Gen. Vicente Danao Jr. said supporters are welcome to attend the event tentatively set at the former legislative building presently the site of the National Museum of Fine Arts.
Danao, however, said troublemakers are not welcome.
"As I have said, we all have the freedom of expression, that's correct. But if you are pulling down the government, especially those who (is) leading it, eh talagang medyo ano 'yan... (that is somewhat...) Although we have that right of expression, tama po 'yan, pero (that is correct, but) we have also to respect, kasi baka masira naman po 'yung ating ano, 'di ba (because what we have might be ruined, right)," he said.
"But if you are pulling down the government, especially those who is leading it, we would have a problem because although we have that right of expression, that's correct, but we also have to respect others because we might disrupt the inauguration," he added. (PNA)