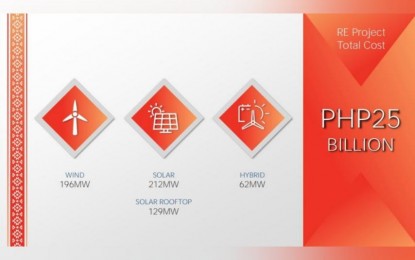 MANILA – Listed holding company Vivant Corp. has allotted PHP25 billion in capital expenditures (capex) for renewable energy projects from 2023 to 2026.
In its virtual annual stockholders' meeting Thursday, Vivant chief executive officer Arlo Sarmiento said this capex will be spent to build 196 megawatts of wind, 212 MW of solar, and 62 MW of hybrid wind and solar projects.
Vivant's target of increasing the share of renewables in its energy portfolio supports the government's goal of improving raising the renewable energy share in the country's energy mix to 35 percent by 2030 and up to 50 percent by 2040.
With these renewable energy projects in the pipeline, Sarmiento said its energy portfolio in 2023 will reach 500 MW, 20 percent or 100MW of which is renewable energy.
"We have some projects in the pipeline that we expect either (by) acquisition by next year, or some solar projects that we can hit completion by next year as well," Vivant president Emil Andre Garcia said.
By 2030, the energy portfolio will increase to 1,000 MW, with renewable energy sharing 300 MW or 30 percent of its total portfolio.
Aside from renewable energy projects, Vivant allocated PHP5 billion for water infrastructure projects, particularly bulk water, water treatment, and water concession.
In 2021, Vivant closed the year with PHP1.8 billion in net income, higher by 23 percent from 2020 earnings of PHP1.4 billion. (PNA)