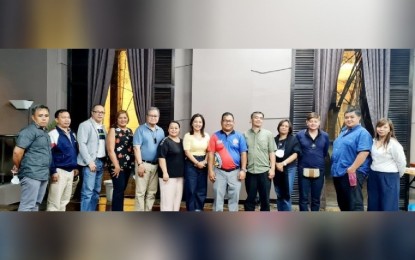 MANILA – The public has been advised to transact only with legitimate and authorized officials of the Benguet Electric Cooperative (Beneco).
The National Electrification Administration (NEA) and the Cooperative Development Authority (CDA), in a joint statement released Wednesday, issued a warning about the standing suspension order against Beneco acting general manager Melchor Licoben and seven members of the electric cooperative's board of directors.
The statement said Licoben, along with suspended Beneco board members Esteban Somngi, Jeffred Acop, Mike Maspil, Peter Busaing, Jonathan Obar, Josephine Tuling, and Robert Valentin, have no authority to represent the electric cooperative.
The suspended Beneco officials are also not allowed "to act as signatory/ies of Beneco checks, to disburse its funds for whatever purpose, and to hire or appoint employees nor call for any Annual General Membership Assembly, Annual Regular General Assembly Meeting/s and Information Education Campaign."
Beneco general manager Ana Maria Paz Rafael is the one who has been "authorized and empowered to act for an on behalf of Beneco," based on the advisory signed by Undersecretaries Emmanuel Juaneza (NEA administrator) and Joseph Encabo (CDA chairperson).
"The undersigned Administrator of the National Electrification Administration and Chairman of the Cooperative Development Authority hereby give notice that Atty. Ana Maria Paz B. Rafael is the General Manager of Benguet Electric Cooperative," Juaneza and Encabo said.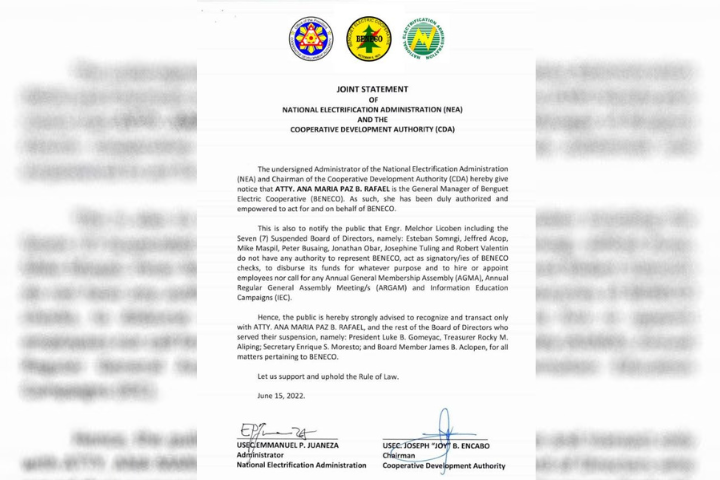 The public is also encouraged to coordinate with Beneco board president Luke Gomeyac, treasurer Rocky Aliping, secretary Enrique Moresto, and member James Aclopen "for all matters pertaining to Beneco."
"Hence, the public is hereby strongly advised to recognize and transact only with Atty. Anna Maria Paz B. Rafael, and the rest of the Board of Directors who served their suspension," the statement read. "Let us support and uphold the Rule of Law."
The Beneco leadership impasse stemmed from the NEA's appointment of Rafael as the qualified electric cooperative's general manager.
Rafael's appointment came voiding Beneco's board of directors election of Licoben as the general manager, replacing the late Gerardo Versoza who retired in April 2020.
The NEA defended its choice of Rafael as Beneco general manager, citing the legal basis of the selection process.
The NEA Board of Administrator's picked Rafael for earning the higher score during the final interview.
Rafael earned a 94-percent mark, while Licoben merely scored 82.75 percent, according to NEA Board Resolution No. 2021-47.
On July 29, 2021, the Board approved Rafael's appointment as general manager, based on the legal opinion rendered by the Office of the Government Corporate Counsel. (PNA)