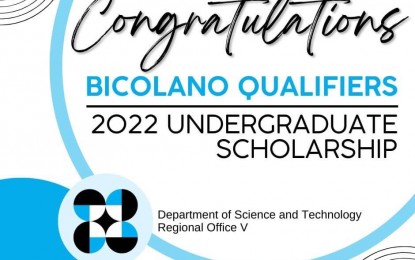 LEGAZPI CITY – A total of 529 students from the six provinces of Bicol region are expected to join the Department of Science and Technology's (DOST) roster of scholars after qualifying for the Science Education Institute's (SEI) scholarship program.
In a phone interview on Friday, Ruby Asuncion, DOST-5 scholarship coordinator, said, "This year, some of the documentary requirements were their grades from 9 to 12, historical data of the school, and 5,636 students applied and tried their luck and more or less 10 percent made the cut."
She noted that the DOST scholarship program is based on the "Science and Technology Scholarship Act of 1994" and the Merit Scholarship Program.
"The Science and Technology Scholarship provides scholarship slots to poor but deserving students whose family's annual gross incomes do not exceed the poverty threshold limit. The Merit Scholarship Program is awarded to students with high aptitude in science and mathematics and is willing to pursue careers in the fields of science and technology," Asuncion added.
The qualifiers shall enjoy financial benefits including PHP40,000 tuition subsidy (for qualifiers who will enroll in private institutions), a monthly stipend of PHP7,000; PHP10,000 book allowance; PHP10,000 thesis allowance and others. "Those enrolling in SUCs will no longer have to pay tuition because of the Free Tuition Act," she said.
The scholars are expected to enroll in institutions duly accredited and recognized by the Commission on Higher Education (CHED), Philippine Accrediting Association of Schools, Colleges and Universities (PAASCU), and state universities and colleges (SUCs).
"They are also expected to apply to the identified courses of DOST like Engineering, Chemistry, Information Technology (IT), Communication Science, Pharmacy, Agriculture, Food Technology, Science and Mathematics Teaching, and Meteorology among others," Asuncion said.
After graduation, the scholars are expected to render return service equivalent to the number of years they were DOST scholars.
"The service obligation only DOST asks for the scholars after graduation is to serve the country. We want also to clarify that DOST does not get salaries of scholars who are working in the government or private sector while they are serving their return service agreement," Asuncion noted.
She added that the 529 new scholars shall receive a notice of award for the details of scholarship orientation and signing of the scholarship agreement.
The qualifiers are from Albay-177; Camarines Norte-78; Camarines Sur-158; Catanduanes-24; Masbate-37 and Sorsogon-55. (PNA)