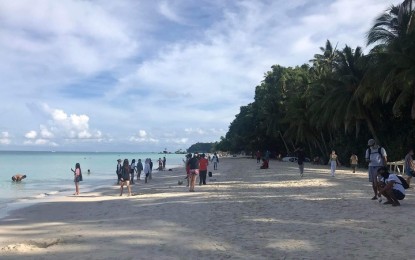 ILOILO CITY – A direct commercial flight from Incheon International Airport in Seoul, South Korea carrying 148 passengers bound for Boracay Island is expected to arrive via Kalibo International Airport (KIA) early Saturday morning.
Tourism Regional Director for Western Visayas Cristine Mansinares, in a phone interview on Friday, said starting June 18 until October 29, 2022 there will be two airline companies that will serve tourists from Incheon Airport to the white beach island via KIA.
The first commercial airline, Air Seoul, is set to touchdown at 12:06 a.m on Saturday, while the second commercial airline, T'Way Air, will start flying to KIA on June 22.
Air Seoul is a budget carrier and a subsidiary of Asiana Airlines while T'Way Air is another Korean low-cost airline in the international market.
"This will have an impact on our tourist arrival because for a long time we look forward to restoring the pre-pandemic international arrivals," Mansinares said.
She added that the arrivals will help boost foreign arrivals between the third and fourth quarter dates of 2022.
"It's a direct flight, so they have enough time to spend on the island," she said.
Citing the record provided by the Malay-Boracay Tourism Office, she said that over 4,000 foreign tourists have visited the island monthly since April but they needed to pass by Cebu, Manila, or Clark and travel via domestic flights to Kalibo or Caticlan.
As of June 15 data, 4, 373 guests arrived in April and 4, 268 in May, and 2,439 from June 1-15.
"As of now, Korea is number four among our top foreign markets. As of June 15, there were 923 Korean tourists from Feb. 12 to June 15," she added.
Meanwhile, Aklan Governor Florencio Miraflores said that the pressure is getting bigger as the tourist arrivals in Boracay is already reaching the pre-pandemic and even the pre-closure level.
"This mainly consists of domestic tourism, and tomorrow the first batch of Korean guests will be coming. And I'm sure that in the next few months the Korean market will eventually open," he said in his message during the culminating activity of the Boracay Inter-Agency Task Force held on the island Thursday evening.
The governor said there's a need to have a study on the new carrying capacity of the island.
The Malay-Boracay Tourism Office on its Facebook page announced that from May 1-31, there were 201, 368 island guests; 193, 298 were domestic tourists.
In April, of the 186,751 tourist arrivals, 92,100 were locals.
The March tourist arrivals reached 150,597 with 146, 440 domestic tourists. (PNA)