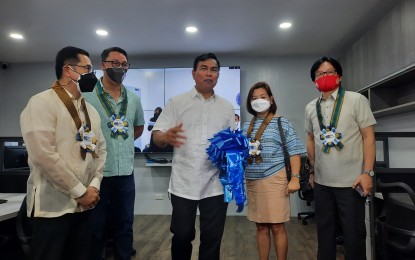 MANILA – The Cybercrime Investigation and Coordinating Center (CICC) has launched the country's first and state-of-the-art Digital Forensics Platform and Laboratory (DFPAL) to help the country's fight against online sexual abuse and exploitation of children (OSAEC).
Speaking at the inauguration of the DFPAL at the CICC office in Quezon City on Friday, CICC Executive Director Cezar Mancao II said the digital laboratory is the flagship program of the CICC under the Duterte administration and will mostly be used to investigate and solve cases of OSAEC.
"We have acquired a powerful state-of-the-art technology, which will improve the success rates of investigators and policing operations in the ongoing pursuit to identify, apprehend, and convict individuals and networks associated with online sexual exploitation," he said.
The laboratory, he said, will be manned by "trained and certified professionals" from the fields of information and communications technology (ICT), psychology, digital forensics, data analytics, research, and communications.
In 2021, there were 3,188,793 cyber tip line reports made by the National Center for Missing and Exploited Children (NCMEC) in the Philippines -- an increase of 138.041 percent compared to 1,339,597 cyber tip line reports in 2020.
"OSAEC is a tragic and growing problem in the Philippines, but it does not need to be a permanent one. We will do everything we can to protect Filipino children," he said.
He said cases of OSAEC and other cyber crimes rose during the coronavirus pandemic, particularly child pornography and other forms of child online sexual abuse and specifically among children from low-income families.
"To support this advocacy, we have child online protection programs and initiatives in partnership with various civil society organizations and many stakeholders," he said.
In a presentation during the program, CICC Technical Consultant Linus Antonio explained that the DFPAL would help combat and serve as a solution to OSAEC through the use of data fusion and 'big data AI,' focusing on cases that "matter most," the use of intelligent case management system, digital forensics tool, open-source intelligence, ancillary investigation tools, high-availability hybrid ICT infrastructure, and professional services.
Antonio also explained the DFPAL framework consists of monitoring and detection of OSAEC cybercrimes, assistance to law enforcement agencies through technical services, support to prosecution units, and OSAEC awareness campaign and outreach programs.
"Through the collaborative efforts of both local and international organizations, the CICC aims to reduce, if not eliminate, OSAEC cases and fulfill its desire to protect and nurture the children," he said.
The CICC is an inter-agency body created through Republic Act 10175, known as the "Cybercrime Prevention Act of 2012" and later became an attached agency of the Department of ICT (DICT) in 2016.
The CICC is mandated to lead the Philippine government's efforts to protect the country, institutions, and citizens against cybercrimes. (PNA)