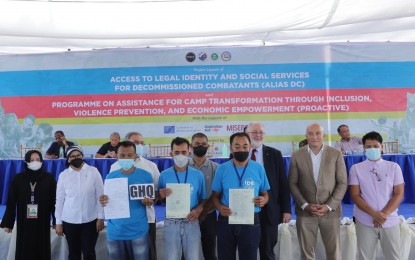 MANILA – Decommissioned Moro Islamic Liberation Front (MILF) combatants will now be recognized by their real names as they gave up their nom de guerre or aliases as part of their full integration into mainstream society.
The Office of the Presidential Adviser on Peace, Reconciliation, and Unity (OPAPRU) shared Friday that former fighters participated in the civil registration initiative called Access to Legal Identity and Social Services for Decommissioned Combatants (ALIAS DC) project that started at Camp Darapanan, Simuay, Sultan Kudarat on Wednesday.
The ALIAS DC project, co-funded by the European Union (EU), Australian Department of Foreign Affairs, and The Asia Foundation, was implemented by Initiatives for Dialogue and Empowerment through Alternative Legal Services, Inc. and supported by the OPAPRU, MILF, Joint Normalization Committee, and Task Force for Decommissioned Combatants and their Communities.
More than 31,000 decommissioned fighters are expected to benefit from the project, the OPAPRU said in a statement.
ALIAS DC will facilitate the processing of the beneficiaries' civil registry documents such as birth certificates.
The United Nations Development Programme and the EU likewise co-financed the Programme on Assistance for Camp Transformation through Inclusion, Violence Prevention, and Economic Empowerment to transform six former MILF camps into peaceful and productive communities.
EU Delegation to the Philippines head Luc Véron, Australian Ambassador to the Philippines Steven Robinson, and UN Resident Coordinator in the Philippines Gustavo Gonzalez have previously visited the camps.
Gonzales cited the effectiveness of the strong collaboration and partnership of the government and the international community in pushing for a peaceful Bangsamoro Autonomous Region in Muslim Mindanao (BARMM).
"We are gathering the resources and capacities of the international community to support the Philippines and to support BARMM in this history of the Philippines. The presence of Australia, of the European Union, the presence of the OPAPRU, the presence of other international organizations, and the UN is a clear demonstration that we are working together here to support this very complex and important process," he said in a previous statement.
OPAPRU said the project is a "ticket" for decommissioned combatants to easily access important government services and benefits such as education, health, livelihood opportunities, and other social services. (PNA)