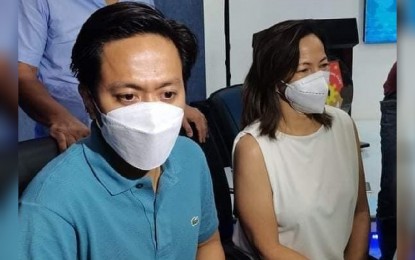 MANILA – Prison time will give the driver of the sports utility vehicle (SUV), who deliberately ran over a security guard, fled the scene, and surrendered 10 days later, a chance to reform, according to Senator-elect JV Ejercito.
In a Facebook video on Friday, Ejercito said he is hoping the prosecution of the Mandaluyong hit-and-run incident on June 5 can bring justice to Christian Floralde, who spent four days in a hospital due to major body injuries.
"Mabuti at sumuko na rin siya at hindi na tumakas. Dapat noon pa (It is good that he surrendered and did not escape. He should have done that earlier)," Ejercito said.
In a tweet also on Friday, Ejercito said Jose Antonio Sanvicente, the SUV driver, has to "pay the consequences of his action".
Ejercito shared that he received information that Sanvicente has a history of stabbing an older person because of a traffic altercation.
After watching the viral video of Sanvicente hitting and running over Floralde, the returning senator offered a PHP50,000 reward for whoever can provide information to locate the driver.
Outgoing Senate President Vicente Sotto III, meanwhile, expressed his disappointment after Sanvicente's surrender to the Philippine National Police (PNP) and subsequent press conference on Wednesday.
"Pls tell the PNP and the lawyer of the hit-and-run-over driver they must follow Republic Act 10586, the Anti-Drunk and Drugged Driving Law," Sotto said in a Viber message to Senate reporters.
He also tweeted that PNP did not follow procedures.
"Legal procedures? Then brush up on issue of illegal drugs. It takes weeks to clean up any trace of real dangerous drugs if you use a comprehensive drug test. Attn PNP spokesperson!" Sotto tweeted.
In a recent press conference, Col. Jean Fajardo, PNP spokesperson, explained that there was no legal basis for them to take Sanvicente into custody.
"To inform the public, the PNP has no legal grounds to take into custody itong (this) suspect considering na wala pa namang (that there is still no) warrant of arrest na na-issue sa kanya (that was issued against him)," she told reporters.
Fajardo added that Sanvicente cannot be a subject for warrantless arrest either because the time has lapsed for them to do that.
Under the Rules of Court, warrantless arrest may be made when in the presence of the policeman, the person to be arrested has committed, is actually committing, or is attempting to commit an offense; when an offense has just been committed and the arresting person has probable cause to believe, based on personal knowledge of facts or circumstances, that the person to be arrested has committed it; or when the person to be arrested is a prisoner who has escaped from a penal establishment. (PNA)