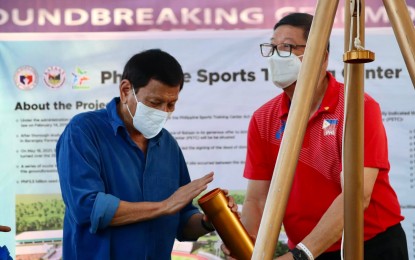 MANILA – President Rodrigo Duterte on Friday urged the incoming administration to pursue infrastructure projects that would help improve the skills and talents of Filipino athletes.
Speaking during the groundbreaking ceremony of the Philippine Sports Training Center (PSTC) in Bagac, Bataan, Duterte expressed hope that the next administration will support the facility and other similar structures.
"As I am now near the end of my term, it is my hope that the succeeding administration will continue and complete this project, as well as pursue other similar projects that would benefit our athletes in the years to come," he said.
The PSTC, eyed for completion in 2025, will cater to the needs of national athletes.
It will have administrative offices, medical and sports science facilities, and dormitories for athletes and coaches.
The provincial government of Bataan donated 250,000 square meters of land for the establishment of the sports complex.
Duterte said he is confident that the PSTC will produce more world-class athletes who will represent the Philippines in international competitions and usher in a thriving sports industry.
"Moving forward, I am excited to know that, once completed, the state-of-the-art and highly-scientific sports complex will be instrumental not only in the honing of the skills and talents of our athletes, coaches and referees, but also in boosting their morale as they compete locally and hopefully, globally," Duterte said.
He likewise expressed gratitude to the Philippine Sports Commission and those who are involved in the construction of the PSTC.
Duterte believed that the project will create a "huge impact on the future of our athletes and of the Filipino youth as a whole".
"I commend everyone involved in this great project which will become the future home and primary venue for development of our nation's athletes. I wish to recognize the contribution and generosity of the Bataan provincial government for donating 250,000 square meters of land here in Bagac for the establishment of the PSTC," he said.
Republic Act 11214, the law which created the PSTC and signed by President Duterte in February 2019, seeks "to promote and develop sports in the country, to achieve excellence in international sports competitions, to ensure success in the country's quest to achieve competitiveness in the Olympic Games, and to promote international amity among nations." (PNA)