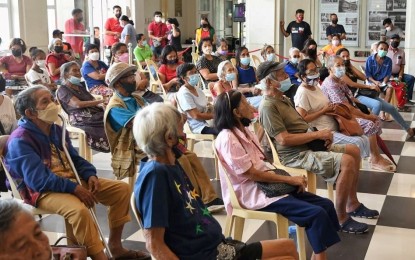 MANILA – President-elect Ferdinand "Bongbong" Marcos Jr. is encouraging the public to continue wearing face masks and observing other health protocols amid the prevailing coronavirus disease 2019 (Covid-19) pandemic.
Marcos made the appeal after the Department of Health (DOH) warned of the possible rise in severe and critical Covid-19 cases by August because of the waning immunity from the coronavirus vaccine and reduction in adherence to minimum public health standards.
"We have to wear face masks and comply with other health standards to ensure our safety and that of our loved ones," he said in a statement issued Friday.
The Cebu provincial government earlier issued an ordinance on the optional use of face masks, but Malacañang clarified that the local directive was not supported by President Rodrigo Duterte.
The Palace said the policy on mandatory wearing of face masks crafted by the Inter-Agency Task Force for the Management of Emerging Infectious Diseases and approved by Duterte prevails over the local ordinance.
Marcos likewise emphasized the need for continued compliance with the health protocols, to prevent another surge of Covid-19 infections that could impede the country's economic recovery.
"We have already made economic headways and we should not allow them to be brought to naught. This is why I am urging everyone to take part in preventing another surge that could block our way to economic recovery," he said.
Marcos urged his fellow Filipinos to avail of the free booster shots being offered by the government to protect themselves against Covid-19.
He said there is a need to receive booster shots, considering that the waning immunity stems from the effect of the highly-transmissible Omicron coronavirus variant on the primary vaccine series.
Citing the findings of a study on over one million people in Qatar, Marcos said those infected with an earlier version of Covid-19 and who received three doses of an mRNA vaccine "appear to be best protected against symptomatic infection by the Omicron variant."
"With the Covid pandemic still ongoing, different variants may still emerge. And as we have seen, some variants are not as resistant to the first and second doses as others. Hence, there is a need to enhance our immunity by getting booster shots. Kailangan ng dagdag na proteksyon (We need additional protection)," he said.
The DOH on Thursday recorded 425 new Covid-19 infections, the highest daily number of new cases in over two months. (PNA)