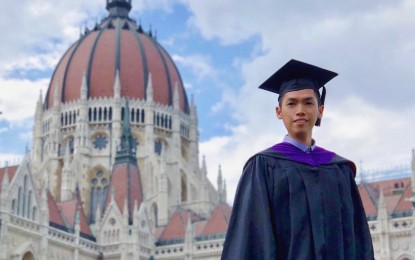 (Ed's Note: Updating this story to correct the previous version that John Albert "Jal" Laylo has died, as reported by officials. They were later updated by the family that the lawyer is still alive but on life support.)
MANILA – Filipino lawyer John Albert "Jal" Laylo and his mother were in an Uber vehicle in Philadelphia, Pennsylvania to catch their flight to Chicago when a still unknown assailant fired at them.
One bullet struck Laylo, 36, in the head, and he is now on life support.
His mother suffered slight injuries caused by glass fragments.
Officals were erroneously informed on Sunday morning that Laylo has died but his sister, Althea, later corrected that her brother is still fighting for his life.
"We were told he only had less than 5% chance of surviving. But now, miracles are starting to happen. He squeezed my mom's hand 3 times and started mildly breathing on his own. Thank you so much for the prayers and I am begging you all to please keep praying. He was undergoing a test to confirm if he is brain dead, but he responded. He will be having another test in an hour, please stand with us in prayer. Miracles are real," Althea tweeted at about 9:30 p.m.
Incoming Department of Migrant Workers secretary Susan Ople, who first told Department of Foreign Affairs (DFA) Secretary Teodoro Locsin Jr. about the incident and posted Laylo's supposed death on Facebook, is asking for prayers "that he may survive the shooting incident in Philadelphia".
"We call on [our] kababayan (fellow Filipinos) to pray hard with us so that Atty. John Laylo, who we have just been informed remains on life support after yesterday's random shooting incident in Philadelphia, would pull through," tweeted Elmer Cato, the Philippines' Consul General in New York.
In his tweet on Sunday morning, Locsin said "Laylo [was] shot in the head" and has instructed embassy officials to bring home the body and Laylo's mother.
Cato said they are "in touch with police authorities in Philadelphia who informed us that the case is being investigated and that no arrests have been made so far. We call on authorities to bring the perpetrator of this crime to justice".
Cato's deputy, Armand Talbo, went the hospital at once and met with Laylo's mother and other relatives.
"I was able to talk to her and assured her of DFA and Philippine Consulate's support," Cato reported.
Laylo's Facebook account indicated he was a graduate of Makati Science High School, University of the Philippines Diliman (Political Science), De La Salle University (Law), and Central European University in Budapest, Hungary (International Business Law).
He passed the Bar in 2015 and also worked for Senator Leila de Lima.
In previous interviews, Cato always reminded Filipinos in the US to stay vigilant as hate crimes against Asians are getting more frequent.
Several Filipinos in New York have been attacked for no reason, some pushed down the stairs of subway stations or hit with hard objects.
Forbes.com reported on June 10 that 22 mass shootings already took place in the US this year.
"Violent gun deaths spiked by 35% in 2020 and homicide numbers -- which are shootings in 80% of cases -- remained just as high in 2021 as they had been in the previous year. Mass shootings of any kind also experienced a peak in 2021 -- 77 were recorded by Gun Violence Archive -- while 2020 proved to be an about average year," Forbes wrote. (PNA)