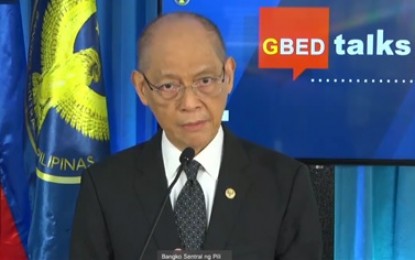 MANILA – Payment system digitalization is expected to lower demand for physical currencies and this will reduce cost for banknotes and coins production, according to the Bangko Sentral ng Pilipinas (BSP).
In a virtual briefing on Monday, BSP Governor Benjamin Diokno said the emergence of contactless payment technology has revolutionized the retail payment system.
"The use of banknotes and coins is expected to taper off over time, particularly the low denomination currencies," he said.
Diokno said the BSP, being the sole currency issuer in the country, ensures the timely and ample supply of good and quality paper bills and coins in the most cost-effective and efficient way.
He said the BSP has also teamed up with several counterparts overseas to compare notes, such as on currency forecasting.
Diokno said the central bank's policy-making Monetary Board (MB) on Jan. 8, 2020 approved the BSP's forecasting framework, which utilizes econometric models that link a set of macroeconomic variables with currency management variables.
"The changing mix of currency denomination should be compatible with the real demand in response to changes in circumstances, such as e-payment usage, price level, and consumer preferences," he said.
Diokno said the BSP will soon release the results of a study regarding the impact of digitalization of payments system on domestic growth, citing that "digital payments has been a catalyst for accelerating financial inclusion and is spurring economic growth."
Citing results of a study done from 2015 to 2019 covering 70 economies that noted the impact of shift to digital payments, he said the adoption to cashless payment added around US245 billion to the real gross domestic product (GDP) of these countries.
"Increased consumer consumption and job generation contributed to the overall productivity and economic growth," he added.
In the case of the Philippines, Diokno said payment digitalization posted huge growth in the last 12 months.
"This brings us closer to achieving our goal to transform at least half of retail payments by digital form by 2023," he said.
As around 99 percent of businesses in the country are accounted for micro, small and medium enterprise (MSMEs), Diokno said shift towards digital payments will benefit not only the sector but the overall economy in terms of growth and productively.
"Moreover, MSMEs' access to digital payments could be the first step to digital financial inclusion. So, the MSMEs contribution to financial inclusion makes them an integral part of the country's overall economic growth," he added. (PNA)