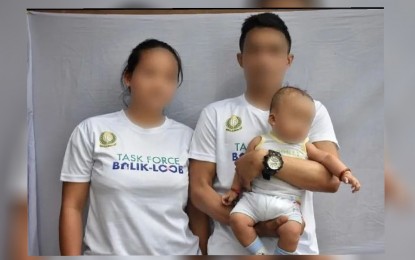 MANILA – The country is assured that Vice President-elect Sara Duterte will not allow children to be exploited by terrorist groups as she has been at the forefront in the fight against insurgency.
Communications Undersecretary Lorraine Badoy, also the National Task Force to End Local Communist Armed Conflict (NTF-ELCAC) spokesperson for Social Media Affairs and Sectoral Concerns, on Monday congratulated the Filipino people "for having elected as Vice President a fierce defender of the oppressed, a true advocate and defender of our children, and a faithful public servant".
Duterte garnered 32,208,417 million votes, or 61.53 percent of votes cast in the vice presidential race.
"Vice President Sara Duterte is someone, we are certain, who will not collude with terrorists and betray us for any reason and who has, in fact, been at the forefront in this fight to end this 53-year scourge," Badoy said.
Badoy expressed optimism that the anti-communist campaign will go a long way in the coming years.
"We are relieved that by June 30, two most powerful officials of the land are exceedingly clear about the terrorist CPP-NPA-NDF (Communist Party of the Philippines-New People's Army-National Democratic Front). That this is the enemy and that we must do all we can to finally destroy this terrorist organization that has brought so much grief and destruction to our people and to our country," Badoy said.
She added that the task force was "comforted" as the new Vice President, during her inauguration in Davao City on Sunday, cited "the noxious practice of the recruitment of our children into terrorism as one of the challenges we face as a nation".
Badoy likewise emphasized the need for national leaders to understand the danger brought about by the CPP-NPA-NDF and its allied legal organizations.
"Because of this, so many of our children have turned their backs on their bright futures to be terrorists of the CPP-NPA-NDF and where our mountains have been transformed into graveyards that hold their remains in shallow, unmarked graves," Badoy said.
"What, really, is the cost to us as the nation of all those young lives lost, all those bright dreams never coming into fruition, their vast potential never being realized, not to mention the grief and suffering their tragic and untimely deaths have caused the families they left behind?" she added.
Through the NTF-ELCAC's whole of nation approach, opportunities for former communist rebels to live in peace have been opened.
"We have closed that horrific chapter in our country's history and we are writing a new one, rebuilding a country where our children are safe from predators who are relentless in stealing them from us," Badoy said.
Badoy thanked Duterte "for giving words to our commitment in government to end the theft of our children by terrorists."
"Our hearts have bled from the destruction of what is most precious to us, our children, and we are taking this fight to the next administration. The CPP-NPA-NDF has been brought down to their knees. We are ready to deal the death blow on this terrorist organization so that they may never again harm our children," she added.
The CPP-NPA is listed as a terrorist organization by the United States, European Union, the United Kingdom, Australia, Canada, New Zealand, and the Philippines.
The Anti-Terrorism Council also formally designated the NDF as a terrorist organization on June 23, 2021, citing it as "an integral and separate part" of the CPP-NPA that was created in April 1973. (PNA)