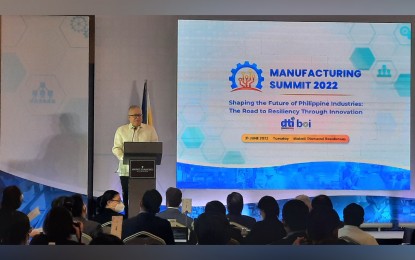 MANILA – Department of Trade and Industry (DTI) Secretary Ramon Lopez is proposing to the next administration to tweak Republic Act 9184, or the Government Procurement Reform Act, to adopt some provisions that will favor local manufacturers in government bidding.
During the 7th Manufacturing Summit in Makati City Tuesday, Lopez said the next administration can refine the "lowest bid" rule in RA 9184 which will open the opportunity for local companies to supply goods and services to the government.
The "lowest bid" rule in the government procurement law could be a disadvantage to domestic industries because imported products, especially those coming from China, are cheaper.
"Provided that supply is available, (and) prices are competitive. There can just be benchmarking with foreign prices from abroad just to make sure that the prices are within range," Lopez said.
He said the Task Force Group on Economic Recovery-National Employment Recovery Strategy (TGER-NERS) passed this kind of resolution wherein only local manufacturers can participate in a particular government procurement program to stimulate activities and jobs in local industries.
"Our thinking, while the law has yet to be amended, may be changing the terms of reference of some government procurement projects through this resolution of NERS that hopefully can be adopted by the President and issue an executive order. It's like side by side with RA 9184," he said on the sidelines of the event.
The DTI chief suggested that this can be done in response to the government's requirement for personal protective equipment (PPE) to patronize the local PPE manufacturing, which heeded the government's call to put up PPE production facilities to supply the local needs during the onset of the coronavirus disease 2019 (Covid-19) pandemic.
Prior to the pandemic, the country only has one face mask manufacturer and has no producer for other PPE like gloves and gowns.
Another area where bidding could be exclusive for Filipino enterprises is in supplying uniforms for uniformed personnel.
Lopez said there is an abundant supply in the local market, and this move can stimulate the local garments and shoe industries.
"Other simple basic requirements are office tools (and) equipment that are locally available. The problem is we get used to importing," he told reporters.
Lopez added allocating 20 percent of government procurement programs exclusively for Filipino manufacturers could help in the growth of the domestic industries.
"(There are) many ways to help local manufacturing," the outgoing DTI chief said. (PNA)