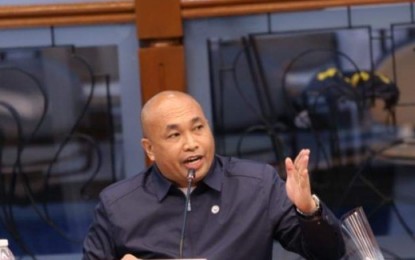 MANILA – Probing the connection of communist terrorist groups (CTGs) with communities is part of the job of the Philippine National Police (PNP).
What is questionable, according to Jeffrey "Ka Eric" Celiz, a former New People's Army official, is the "malicious intent" of a party-list group to accuse government officials and security forces of "red-tagging".
Celiz is the secretary-general of Abante Sentrong Alyansa ng mga Mamamayan para sa Bayan (Sambayanan).
Gabriela Party-list Rep. Arlene Brosas claimed that the Navotas City police were ordered to do community profiling on Sunday to determine the villages that delivered votes for Makabayan bloc members Kabataan, Anakpawis, Bayan Muna, ACT Teachers, and Gabriela during the May 9 polls.
In a statement on Tuesday, Celiz said there is nothing wrong with the police conducting community profiling while Brosas is attempting to cover up the recruitment operations and exploitation activities of the CTG front organizations.
"There is nothing irregular when the PNP, as a law enforcement, public safety, and public order implementor, must conduct intelligence activities and because the Anti-Terrorism Council had already designated the CPP-NPA-NDF (Communist Party of the Philippines-New People's Army-National Democratic Front) as terrorist organizations operating in the Philippines".
Celiz said the PNP is only doing its mandate, especially since "Gabriela is one of the identified allies" of the CPP-NPA-NDF.
He said CPP founding chair himself, Jose Maria Sison, disclosed the communists' ties with Gabriela, ACT Teachers, League of Filipino Students, Bagong Alyansang Makabayan, Kilusang Magbubukid ng Pilipinas, and Kilusang Mayo Uno, among others, and identified them as the "open democratic forces in the Philippines".
"In translation, they are the front organizations of the CPP-NPA-NDF. That is precisely the reason why the PNP is conducting appropriate intelligence, security-related monitoring, and gathering of information because of this clear existence of facts pointing to the involvement of these organizations with the CTGs," he said.
Celiz said the PNP should instead be praised for their contributions to curbing communist insurgency.
The CPP-NPA is listed as a terrorist organization by the United States, European Union, the United Kingdom, Australia, Canada, New Zealand, and the Philippines.
The Anti-Terrorism Council also formally designated the NDF as a terrorist organization on June 23, 2021, citing it as "an integral and separate part" of the CPP-NPA that was created in April 1973. (PNA)