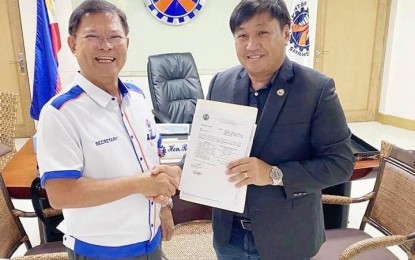 LAOAG CITY – Some seven provincial roads in Northern Luzon have been converted into national highways to spur productivity in the area, according to the Department of Public Works and Highways (DPWH).
The conversion project is contained in a department order signed by DPWH Secretary Roger Mercado and covers various roads in the Cordillera Administrative Region, Ilocos Region, and Cagayan Region. Mercado handed over his order to Apayao Congressman Elias C. Bulut Jr. on Tuesday, June 21.
"With the recent promulgation, the people of Apayao can look forward to improved accessibility and reduced travel time, leading to enhanced productivity in the province," said Bulut in a statement.
The converted local roads include Piddig-Carasi (Ilocos Norte)-Calanasan-Langnao-Kabugao road, Kalinga-Apayao road connecting Balbalan, Pinukpuk, Kalinga and the town of Conner in Apayao, Santa Maria-Upper Atok-Aurora road, Sanchez Mira (Cagayan-Kittag-Cadaclan-Eva Garden (Apayao) road, Kabugao (Apayao)-Tineg, Abra-Nueva Era, Ilocos Norte road, Cagayan-Apayao road (Buluan, Mawegui-Allangigan-Rizal road), and Paddaoan-Talifugo-Marag road.
In a statement, the DPWH said the conversion of the local roads to national highways would "spur economic development and opportunities in rural communities."
As a result of this conversion, the national government, through the DPWH, would take the responsibility for the maintenance of the roads.
With paved and duly maintained road network, commerce and trade would be enhanced, according to the DPWH. (PNA)