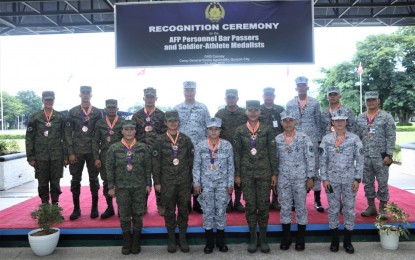 MANILA – The Armed Forces of the Philippines (AFP) honored 74 soldier-athletes who brought home medals from the 31st Southeast Asian Games (SEAG) in Vietnam and personnel who passed the recent Bar examinations.
These military and civilian personnel were honored by AFP chief Gen. Andres Centino in a ceremony in Camp Aguinaldo, Quezon City Tuesday.
"Their perseverance and dedication led them to the road of success in accomplishing their dreams of pursuing professional advancement, and for bringing honor and glory to the country in international sports competitions," Centino said in a statement Wednesday.
Soldier-athletes who won gold medals in the 31st SEAG were awarded the Outstanding Achievement Medal -- Air Force Staff Sgt. Hidilyn Diaz, Airman 2nd Class (A2C) Eumir Felix Marcial, Seaman 2nd Class (S2C) Phillip Delarmino, Army Private First Class (Pfc.) Janine Pontejos, Pfc. France Mae Cabinbin, Apprentice Seaman (ASN) Ian Clark Bautista, ASN Clinton Kingsley Bautista, ASN Marizze Andrea Tongco and Apprentice Seaman Data Processing Technician (ASDP) Afril Bernardino.
Meanwhile, silver and bronze medalists were conferred with the Meritorious Achievement Medal.
The silver medalists were Army Sgt. Darwin Laylo, A2C Alvin Lobreguito, S2C Jefferson Manatad, S2C Jhonny Morte, Army Cpl. Ronil Tubog, Airman 1st Class (A1C) Noemi Tener, Pfc. Janelle Mae Frayna, ASN John Russel Misal, ASN Aries Toledo, Army Private Jeson Patrombon, ASN Irish Magno, ASDP Joanie Delgaco PN, and Private Cris Nievarez.
Meanwhile, Army Technical Sgt. Margarito Angana Jr., Staff Sgt. Estie Gay Liwanen, Sgt. Jovelyn Gonzaga, Sgt. John John Bobier, Sgt. Noel Norada, S1C Jason Balabal, A2C Edgardo Alejan Jr., A1C Jason Huerte, A1C Alnakran Abdilla, S2C Grace Loberanes, A1C Rheyjey Ortouste, A1C Sonny Wagdos, Pfc. Amelyn Pagulayan, ASBU Roque Anbala Jr., ASGM Riza Pasuit, ASN Josie Gabuco, and Private Jelly Dianne Paragile composed the list of bronze medalists.
The Military Merit Medal was also given to soldier-coaches in the 31st SEA Games.
They were Army Master Sgt. Danilo Fresnido, Air Force Master Sgt. Patrick Lee, Air Force Staff Sgt. Jimmy Angana, Air Force Staff Sgt. Arniel Ferrera, Air Force Staff Sgt. Julius Felicisimo Nierras Jr., Air Force Staff Sgt. Rhovyl Verayo, Air Force Staff Sgt. Raffy Mosuela, Air Force Staff Sgt. Sean Guevara, Air Force Staff Sgt. Nicanor Jasmin, Air Force Sgt. Eduardo Buenavista, Army Sgt. Jayson Gonzales, Air Force Sgt. Gilbert Ramirez, Army Sgt. Lloyd Dennis Catipon, Army Sgt. Antonio Agustin Jr., Air Force Sgt. Irendin Lepatan, A1C Jeffrey Malabanan, A1C Preciosa Delarmino, A2C Gerson Nietes Jr., Navy DC3C Maria Concepcion Fornea and Navy BU3C Franco Teves.
The AFP also recognized 15 personnel who passed the Bar exams.
They were Air Force Lt. Col. Arnel I. Patetico, Army Lt. Col. Heriberto Sangalang II, Marine Maj. Androus Rogel Cabauatan, Navy Lt. April Bayabao, Medical Administrative Corps Capt. Joan Don Napay, Air Force 1st Lt. Mae Ann Michelle Villagomez, Army Sgt. Arnold Carator, Air Force Sgt. Ben Laurence Balderama, A1C Emmanuel Magistrado, and civilian employees Rodel Basco, Edna Ramirez, Jurhaiza Jupurie, Odessa Rossilyz Magisa, Roxan Tabug CivHR, and Sheena Mariz Zulueta.
The new lawyers were each given a plaque of recognition for their achievement. (PNA)