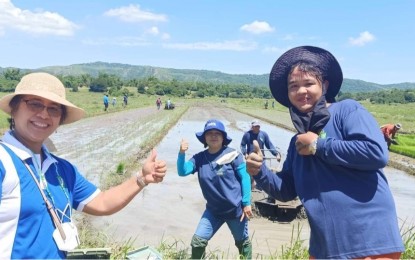 LAOAG CITY – Ilocos Norte is poised to deploy "golden rice" seeds for production in this northern part of Luzon this wet season to reduce the incidence of Vitamin A deficiency (VAD) among its residents through the consumption of the beta-carotene-enriched golden rice.
Through a proposed memorandum of agreement (MOA) between the Philippine Rice Research Institute, Department of Agriculture (DA), Bureau of Plant Industry, Agricultural Training Institute, and the Provincial Government of Ilocos Norte, the planting of golden rice will be rolled out in the province for on-farm grain and seed production with selected farmer-cooperators, said provincial board member Domingo Ambrocio, Jr., chairperson of the committee on agriculture on Wednesday.
Ambrocio is the main sponsor of Draft Provincial Resolution 2022-06-511, authorizing Governor Matthew Joseph Manotoc to enter into a MOA with the authorized representatives of the said inter-government agencies for the golden rice deployment in the province.
Under the agreement, an initial 80 kilograms of golden rice will be planted during the upcoming wet season for grains and another 80 kilograms for seed production.
Hazel Jane Orge, acting branch director of DA-Philippine Rice Research Institute (PhilRice) in the Ilocos Region, said Wednesday the production of golden rice is in support of the government's effort to achieve food security.
In the Philippines, records show that there is a 15.5-percent prevalence of VAD, mostly affecting children aged six months to five years old. This health issue is expected to be addressed through the production and consumption of golden rice, aside from other government intervention programs on food supplementation (breastfeeding), diversified diet (community and school gardens), food fortification, and biofortification which is the golden rice.
Initially, the DA-PhilRice reported that a total of 120 kilos of golden rice seed were distributed to at least five seed growers in Piddig town for the three-hectare seed production of golden rice.
"By July, another 0.50 hectare is also being prepared for golden rice seed production," said Reina Banquirig, focal person for golden rice deployment of the DA-Ilocos Norte Research and Experiment Center in Dingras station.
Dr. Santiago R. Obien, DA senior technical adviser and former executive director of PhilRice, said in an earlier interview that the consumption of golden rice is for now primarily recommended for those suffering from VAD, hence it is not yet being produced for commercial purposes. It is given to local government units which have recorded a high incidence of malnutrition and VAD in their locality.
"Golden rice is like ordinary rice but enriched with beta-carotene, which the body converts into Vitamin A when consumed," he said.
Golden rice was first developed in 1999 by Ingo Potrykus, a professor at the Swiss Federal Institute of Technology, and Peter Beyer of the University of Freiburg, Germany, who began their research on golden rice in 1982.
In 2004, the golden rice technology was donated to the Golden Rice Humanitarian Board, which transferred it to developing countries where VAD is prevalent, including the Philippines. (PNA)