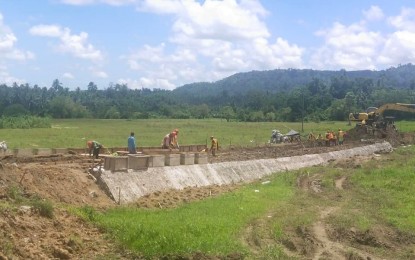 TACLOBAN CITY – The New People's Army (NPA) in Northern Samar has lost its source of food and funds with the initial implementation of Barangay Development Program (BDP) in six remote communities, a top official of the Philippine Army said.
In the past five months, the communist terrorists have stopped receiving financial support and food supplies from communities with the rollout of development initiatives, Maj. Gen. Edgardo de Leon, commander of the Philippine Army's 8th Infantry Division said in an interview Wednesday.
"The much-improved accessibility to these villages due to ongoing farm-to-market road projects has driven the NPA away from communities. The people have stopped giving support to the NPA," de Leon said.
He said a NPA platoon in Northern Samar used to solicit PHP175,000 monthly contributions from residents, village officials, and small businesses. A platoon used to receive 64 sacks of rice from local farmers.
"Losing these donations since we implemented the BDP in the past five months prompted hungry NPA members to surrender," de Leon added.
De Leon said there are only two remaining NPA guerrilla fronts in Eastern Visayas and one of them is in Northern Samar
Locals, including village officials, were willing to give cash and rice to the NPA who promised that they would facilitate the processing of their land titles, the army official said.
Members of the NPA-linked front organizations assume the tedious task of processing documents in government offices.
"With the BDP, that system has stopped. Members of the regional and local task force to end local communist armed conflict have been visiting these communities to address the concerns of villagers," he said.
Six villages in the province are recipients of PHP120 million BDP under the 2021 allocation. As of June 8, PHP14.44 million have been spent for some of the 35 identified projects.
These projects include PHP31.93 million farm-to-market roads, PHP17.49 million water and sanitation system, PHP18.5 million health stations, PHP24.8 million for school buildings, PHP11 million electrification, PHP10.05 million assistance to poor families, and PHP6.22 million agricultural and livelihood training assistance.
Recipient villages are Quezon in Catarman; Calantiao in Bobon; Hitopian, Nagoocan, and Osang villages in Catubig; and San Miguel village in Las Navas town.
The BDP is a flagship program of the National Task Force to End Local Communist Armed Conflict, which was conceptualized to address insurgency by bringing sustainable solutions and basic services to communities in need. (PNA)