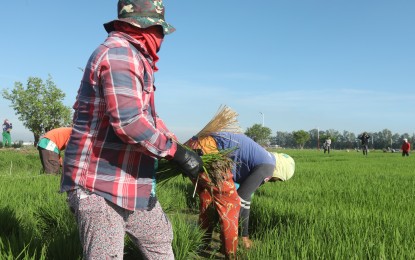 MANILA – A party-list lawmaker is hoping for a bigger budget for the agriculture sector in the next administration to address the looming global food crisis.
In a statement on Wednesday, Magsasaka Party-list Rep. Argel Cabatbat said the food crisis fears and other forces that affect food supply could be addressed immediately with President-elect Ferdinand "Bongbong" Marcos Jr. taking over the helm of the Department of Agriculture (DA).
"We were surprised that the President-elect chose to head the DA. But it's a pleasant surprise. This means, he recognizes there is a problem in the agency and farmers need immediate help. This is a welcome development, especially now that the country is facing a food crisis," Cabatbat said.
Cabatbat said the government should infuse a budget of at least PHP400 billion into the agriculture sector to help farmers and other workers cope with rising fertilizer prices, unabated oil price surges, climate change, and other losses due to the pandemic and natural disasters.
The proposed budget would also ensure basic support services and infrastructure, and cut the high cost of production and marketing, and labor-intensive farm practices.
He said there is a need for better managers at the DA with political will to curb smuggling, corrupt practices in the agency, and excessive importation.
The Philippines, he said, can achieve food sovereignty if the government will prioritize measures that will support local farmers in the country.
"Sa tingin ko, mabibigyan ng mas malaking pondo ang mga magsasaka lalo na't siya (Marcos) ang acting secretary ng DA (I think our farmers would be given a bigger budget now that Marcos would serve as acting secretary of the DA). I consider this as a General going to the frontlines. Politically, he's putting himself at risk kasi kapag pumalpak ito, wala na siyang sisisihing iba kundi siya na mismo eh (because if this fails, he has no one to blame but himself). He's taking responsibility," Cabatbat said.
Camarines Sur Rep. Luis Raymund Villafuerte said it is a "wise decision" for the incoming administration to prioritize agriculture given that the country's food supply woes arising from low rural productivity and unbridled population growth have been exacerbated by other global events such as the ongoing Covid-19 pandemic, sky-high oil prices, and Russia's invasion of Ukraine.
"We commend BBM's decision to head the DA when he takes over the presidency next week as this sends the crystal clear message that his incoming administration is giving No. 1 priority to agricultural modernization and food security, if not self-sufficiency," Villafuerte said in a statement.
With his campaign promise to uplift the lives of all Filipinos, Villafuerte said it is logical for Marcos to give top priority to agriculture, considering that there are 9.99 million people, or almost a tenth of the Philippine population, employed in the farm sector, according to Philippine Statistics Authority (PSA) data.
"The incoming President cannot generate the tide that will lift all boats without including our farmers in the equation," he said.
Villafuerte suggested that the next government could tweak the Duterte administration's "Build, Build, Build" program in support of agricultural modernization by putting up food terminals across the country, with focus on the main agricultural produce in the respective regions.
"The BBM government focus on value-added processing of agricultural products, with state-run food terminals taking the lead in all regions of the country," he said. "BBM could put up at least one major food terminal in every region, with production, processing, marketing and trading focused on the major farm goods in each region."
Outgoing Agriculture Secretary William Dar expressed confidence in the whole-of-government approach under the incoming leadership of Marcos.
Dar said Marcos' decision to temporarily lead the DA implies his prioritization of food security in the country, amid the looming global food crisis.
"His resolve to take the reins is a strong indication of this. We are confident this will augur an unprecedented 'whole-of-government' movement for the urgent attainment of food sovereignty in this time of crisis," he said.
Dar noted this has been the "political will" they are advocating in the DA, especially since challenges from the coronavirus disease 2019 (Covid-19) pandemic remain.
"We see this pronouncement as a victory of the DA in rousing broad public support towards the sector's rehabilitation and empowerment," he said. (PNA)