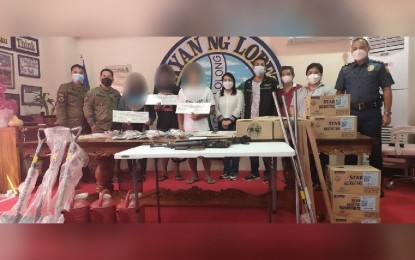 MANILA – The Armed Forces of the Philippines (AFP) announced the surrender of three New People's Army (NPA) communist terrorists to troops of the 85th Infantry Battalion in Lopez, Quezon on Tuesday.
In a statement late Wednesday, AFP public affairs office chief Col. Jorry Baclor, said the three NPAs, whose identities were withheld for security reasons, also surrendered an M-14 automatic rifle and a carbine with ammunition.
"They were formally presented by 85th (Infantry Battalion) troops, Lopez Municipal Police Station, and the Municipal Social Welfare and Development (MSWD) to Mayor Rachel Ubana who is also the chairperson of the Municipal Task Force on Ending Local Communist Armed Conflict," Baclor said.
Baclor said the MSWD Office initially provided the surrenderers with financial assistance and farm supplies and equipment.
The municipal mayor also offered free education, livelihood, and housing assistance to the former rebels.
Government agencies are now processing necessary documents to include the former rebels in their beneficiaries under the Enhanced Comprehensive Local Integration Program (E-CLIP).
"The AFP meanwhile is continuously intensifying all efforts to encourage the remaining CNTs (communist NPA terrorists) to return to the government fold, avail of the E-CLIP benefits and become productive citizens," Baclor said.
The Communist Party of the Philippines-New People's Army (CPP-NPA) is listed as a terrorist organization by the United States, the European Union, the United Kingdom, Australia, Canada, New Zealand, and the Philippines.
The Anti-Terrorism Council also formally designated the National Democratic Front (NDF) as a terrorist organization on June 23, 2021, citing it as "an integral and inseparable part" of the CPP-NPA that was created in April 1973. (PNA)