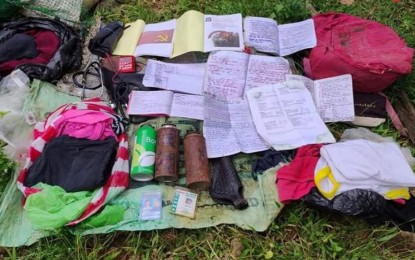 BACOLOD CITY – The Philippine Army seized another lair of the Communist Party of the Philippines-New People's Army (CPP-NPA) in a remote area of Barangay Minapasuk, Calatrava town on Wednesday.
In a statement on Thursday, Brig. Gen. Inocencio Pasaporte, commander of the 303rd Infantry Brigade, acknowledged the support of the locals in providing valuable information that prevented the attack of communist rebels.
"The ever-increasing support from communities and local government units is a clear message to this group that they are unwanted in this area," he added.
On Wednesday morning, troops of the 79th Infantry Battalion (IB) clashed with about 10 communist rebels and overran a hideout in Sitio Tinibyangan, where they found personal belongings, medical items, and subversive documents.
Lt. Col. Javines, commander of the 79IB, said through the support of the Negrenses, they aim to achieve an insurgency-free community free from fear of being used and exploited.
"We will be relentless in our pursuit of peace and progress, and we will continue to advance our efforts in making the CPP-NPA irrelevant in northern Negros," he added.
According to the 79IB, those who engaged the soldiers were remnants of the NPA's Northern Negros Front, which was declared dismantled by the military and the police in April last year.
They have been going mobile across the north, trying to regain their lost ground, including those in the far-flung communities of Calatrava, which used to be a stronghold of the NPA in Negros Occidental.
1Lt. Dansan Camua, civil-military operations officer of the 79IB, said they sustain security patrol operations in these areas to protect the residents from the rebels' extortion activities.
"If there are no soldiers in the area, they are forced to give up for fear of being killed," he added.
Camua noted the importance of the Barangay Development Program of the National Task Force to End Local Communist Armed Conflict in bringing the services of the government closer to the former NPA-influenced areas.
"When the communities don't feel the basic services of the government, it is possible that (insurgency) will return," he added.
The CPP-NPA is listed as a terrorist organization by the United States, the European Union, the United Kingdom, Australia, Canada, New Zealand, and the Philippines.
The National Democratic Front (NDF) has been formally designated as a terrorist organization by the Anti-Terrorism Council on June 23, 2021, citing it as "an integral and inseparable part" of the CPP-NPA created in April 1973. (PNA)