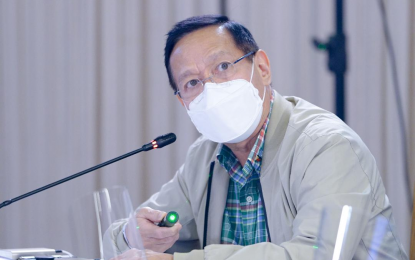 MANILA – Proper liquidation reports from hospitals are needed for the disbursement of the One Covid allowance (OCA), Department of Health (DOH) Secretary Francisco Duque III said Thursday.
In a television interview, Duque said the DOH cannot "disburse public funds without proper accountability" in response to the concerns of more than 120,000 healthcare workers who have not received their OCA.
"Kapag na-liquidate nila, sabi ko nga kahit partial liquidation pwede na. Kailangan talaga may (I told them that partial liquidation would be okay. There should be) liquidation. Otherwise, ang DOH will be liable, and it will be a subject of a COA [Commission on Audit] observation and a possible disallowance," he added.
Under the OCA, individuals classified to be "high risk" will get PHP9,000 monthly; "moderate risk", PHP6,000; and "low risk", PHP3,000.
Earlier, the DOH reminded private hospitals and some local government hospitals to submit their liquidation reports.
Rules and regulations require a memorandum of agreement (MOA) and full accounting or liquidation of any funds previously given for the DOH Centers for Health Development to transfer funds to private hospitals, it said.
About PHP403 million has been allocated to 266 medical facilities and was "readily available", it added.
However, the allocation is "pending and for issuance of checks" due to a lack of submitted documents, especially the signed MOA and liquidation report from the previously transferred funds to the health facility.
Duque said he "personally monitors" the OCA disbursement.
"Dahil talagang (Because they really) they are, they deserve it, you know, these benefits, the One Covid Allowance, is long overdue," he said. (PNA)