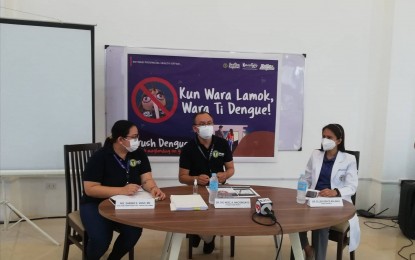 SAN JOSE DE BUENAVISTA, Antique – The Antique provincial government is urging residents to exert more effort in cleaning their surroundings to get rid of the common breeding sites of mosquitoes as dengue cases continue to rise in the province.
Integrated Provincial Health Office (IPHO) chief, Dr. Ric Noel Naciongayo, during a press conference Thursday, said that based on their data as of June 19, there are 979 cases of dengue, which is 355 percent higher than the 215 cases recorded during the same period in 2021.
The number of deaths is placed at four this year while there was only one fatality last year. At present, Naciongayo said dengue cases continue to climb despite the regular cleanup of the local government units and barangays.
"Individual efforts or the households should have to do their own share in cleaning their homes and getting rid of the mosquito breeding places," Naciongayo said.
With the rise in cases, he said people should meticulously clean their households of containers and other breeding sites of infected Aedes species mosquitoes, which transmit the virus.
"Households have to really search and destroy mosquito breeding sites by checking on their water containers where there could be larvae," he said.
Common mosquito breeding grounds around households are tires, trash bins, drums, buckets, clogged gutters, and open containers with stagnant water.
"All the 18 towns in the province have already (reported) dengue cases," he said.
The municipalities with high dengue cases are San Jose de Buenavista, Sibalom, Hamtic, Bugasong, and Anini-y.
As of Thursday, there are 74 admissions of dengue in 13 hospitals in the province.
The IPHO chief also advised the public not to self-medicate if they have dengue symptoms and to let health personnel attend to them.
"There are barangay health workers nearest you who could attend to your health needs," so proper treatment can be given, he said. (PNA)