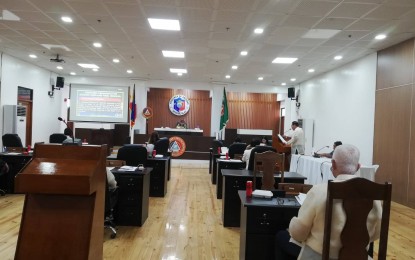 SAN JOSE DE BUENAVISTA, Antique – The Antique Provincial Board bowed out from office on Thursday but is leaving the PHP21-million coronavirus disease 2019 (Covid-19) molecular laboratory as its biggest contribution to the residents of the province.
Antique Provincial Board Assistant Majority Floor Leader Vincent Piccio III, who is already on his last term as a provincial board member, said the body approved the budget for the establishment of the Covid-19 molecular laboratory for the people in the province who would no longer need to undergo swab testing at the Western Visayas Medical Center (WVMC), which is the regional hospital in Iloilo City.
"The Covid-19 molecular laboratory also enabled our constituents to be able to get their results immediately so that they could be given proper treatment," Piccio added.
Aside from the establishment of Covid-19 molecular laboratory, located beside the provincial hospital Angel Salazar Memorial General Hospital (ASMGH) in this capital town, the provincial board also took pride in facilitating the purchase of medical equipment to upgrade swab testing in the province.
The ASMGH is Antique's Covid-19 primary referral hospital.
Before the setting up of the Covid-19 molecular laboratory, the ASMGH needed to send to WVMC the specimen for the real-time-polymerase chain reaction (RT-PCR) test of Antiqueños and would wait for two or more days to learn the result before the proper medication could be prescribed to a patient.
With the establishment of the laboratory, results are now being released within a day affording the patient to get immediate treatment. (PNA)