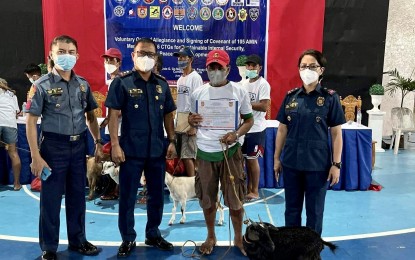 LAOAG CITY – More than 100 farmer-leaders and members of the Alyansa Dagiti Mannalon iti Ilocos Norte (AMIN) who are perceived as supporters of the New People's Army received livestock, food packs, eyeglasses, canes, and other essential government services on Sunday afternoon.
Held at the Ernesto G. Go Mega Complex in Currimao town, each of them signed a peace covenant to abide by the laws and legal orders of government authorities and condemn any form of violence, oppression, force, or threat that may impair, impede or disrupt the peace ad order in the country.
In his short speech, Mayor Edward Quilala thanked the government forces, as well as other representatives of various government agencies for extending support to the farmers who were deceived and intimidated by the terrorist group.
"Let us be discerning in all our actions. We are in a deep crisis and there are those who will take advantage of us but the government is here. You can come to us and request whatever you wish [from the government]," he said.
According to Lt. Col. Ricardo Garcia III, 24th Infantry Battalion commander, the AMIN is a Communist Peoples Party-affiliated peasant organization in the province that uses social media to sow hatred and animosity against the government.
But through the intensive implementation of the Duterte administration's whole-of-nation approach to end the local communist armed conflict in the country, Garcia said the group voluntarily executed their oath of allegiance to denounce and condemn the ideologies and unlawful acts of the Communist Party of the Philippines (CPP)-NPA-National Democratic Front (NDF).
"This is a welcome development and a commendable accomplishment as a result of the efficient and effective implementation of Executive Order No. 70," Garcia said.
"Thank you for your support. We were misled by the wrong ideology. I hope these government programs will continue," said one of the farmer-beneficiaries.
The CPP-NPA is listed as a terrorist organization by the United States, the European Union, the United Kingdom, Australia, Canada, New Zealand, and the Philippines. The NDF has been formally designated as a terrorist organization by the Anti-Terrorism Council on June 23, 2021. (PNA)