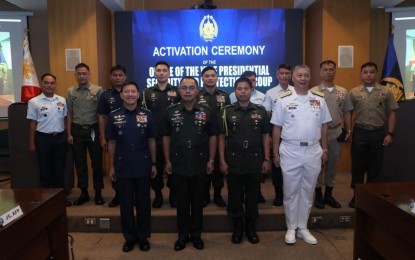 MANILA – The Armed Forces of the Philippines (AFP) on Monday justified its recent activation of the Vice Presidential Security and Protection Group (VPSPG).
In a statement, AFP public affairs office chief Col. Jorry Baclor said the reorganization of the former Vice Presidential Security Detail (VPSD) into the VPSPG underwent a thorough deliberation process at the AFP General Headquarters (GHQ) long before the start of the 2022 election period.
"Thereafter, it underwent the usual approval process at the GHQ and DND (Department of National Defense) just like any other reorganized unit," Baclor said.
Baclor added that the former VPSD has some limitations in personnel and equipment.
"While the VPSD has been performing its mandate of protecting the second-highest elected official of the country, it has some limitations in terms of personnel, equipment, and other logistical requirements," he added.
The VPSPG was activated last June 24 to provide security to the current and future Vice Presidents of the country and their families.
Baclor added that the expansion of the VPSD to VPSPG is needed to prevent disruption of AFP units in the field in the event of countryside activities or engagement of the Vice President.
"During official engagements of the Vice President especially in the countryside, units on the ground are normally being tapped to augment the VPSD. Hence, to prevent the disruption of AFP units performing their tasks in internal security operations, the expansion of the VPSD was recommended to higher authorities," Baclor said.
The former VPSD is under the Special Detail Unit of the General Headquarters and Headquarters Service Command (GHQ & HSC) based at Camp Aguinaldo, Quezon City.
The GHQ & HSC takes care of the management of the whole Camp Aguinaldo which includes the facilities, personnel, logistics, and camp security among others.
As approved by the DND, the VPSPG is now a separate unit of the AFP with more personnel, better equipped, and capable of providing security in multiple engagements of the Vice President nationwide.
"The AFP assures the Filipino people that it has remained focused on its mandate of protecting the people and securing the state," Baclor said. (PNA)