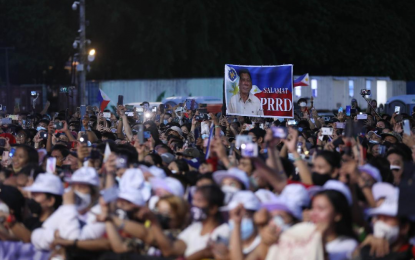 MANILA – Outgoing President Rodrigo R. Duterte will step down from office as "the most popular president of the post-Edsa 1 era", according to the latest PUBLiCUS survey.
In PUBLiCUS' PAHAYAG Second Quarter survey conducted from June 16 to 22, results showed 75 percent of 1,500 respondents approved or strongly approved of Duterte's job performance during his six-year term.
Only 10 percent of respondents said they disapproved or strongly disapproved of the President's performance since 2016.
As for trust ratings, 69 percent of respondents rated their trust in Duterte as high or very high. Only 11 percent said they put little or no trust in Duterte.
"Our numbers indicate that President Rodrigo Duterte will leave office as the most popular president of the post-EDSA I era. No other president who served under the 1987 Constitution has ended his or her term with majority approval and trust ratings, much less a supermajority of public support," PUBLiCUS Executive Director Aureli Sinsuat said in a statement.
'Most impactful'
Meanwhile, 75 percent of respondents said the overall impact of the Duterte administration on national development was slightly or very positive -- identical to the outgoing President's total approval rating.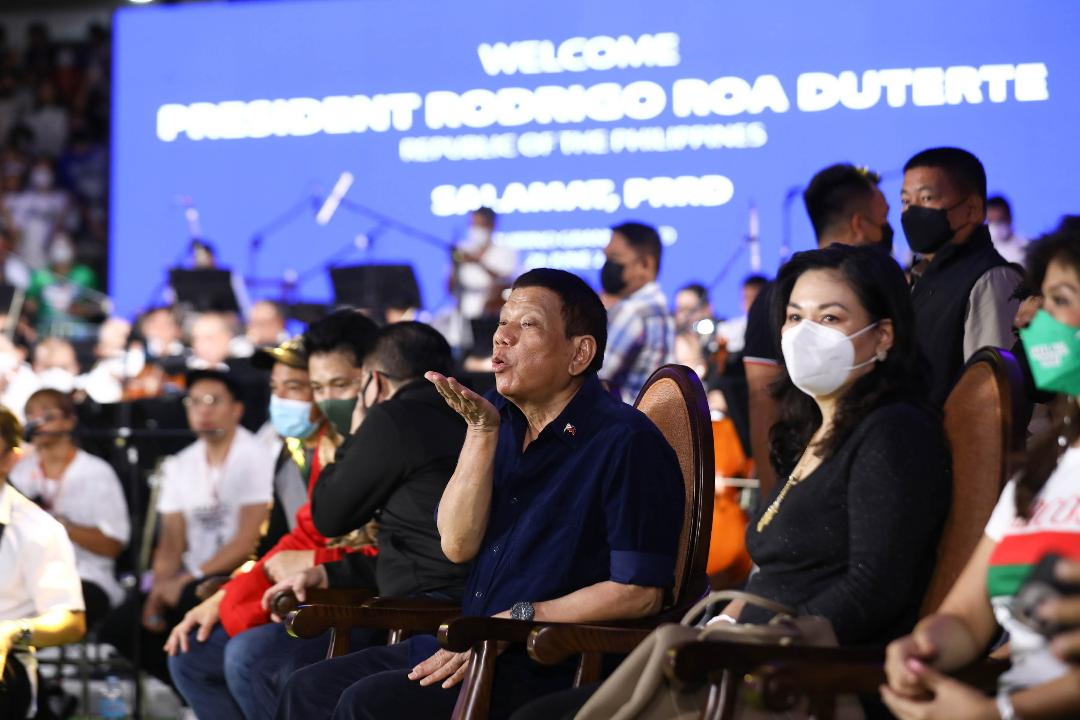 The survey said the second-highest positive impact rating among post-Edsa I administrations was notched by Duterte's predecessor, the late President Benigno S. "Noynoy" Aquino III.
Twenty-seven percent of respondents said the Aquino III administration had a positive impact on the development of the Philippines.
The administrations of former Presidents Fidel V. Ramos, Gloria Macapagal-Arroyo, Corazon Aquino, and Joseph Estrada recorded positive impact ratings of 24 percent, 22 percent, 20 percent, and 14 percent, respectively.
Sinsuat added the data suggest that public sentiment on the policy achievements of the Duterte administration is "exceptionally positive, especially in comparison to previous administrations."
"Based on our numbers, we can expect President Duterte to retain an unprecedented amount of political capital for a former president when he leaves Malacañang on June 30. When private citizen Duterte speaks up on the issues, many will listen. When he endorses a candidate, many will vote for them," Sinsuat added.
Deep gratitude
Malacañang welcomed results of the survey, thanking the public for supporting the Duterte administration.
"We express our deep gratitude to the Filipino people for standing behind the President who has broken barriers and has overcome challenges in his six years of service to the nation," acting presidential spokesperson and Communications Secretary Martin Andanar said in a press statement.
Andanar also renewed his call to Filipinos to stand together and continue efforts for the greater good of the country.
"As we are about to enter another chapter in our political history, let us continue to be united in purpose to make the Philippines a peaceful, proud and progressive country that we all want our nation to be," he added. (PNA)