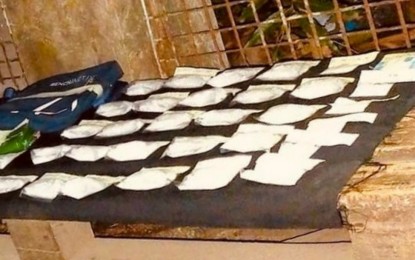 MANILA – The Philippine National Police (PNP) on Monday touted the success of the government's fight against illegal drugs, noting its role in keeping communities safe.
"I think the numbers will not lie. If we look at the real numbers, in terms of volume and amount of illegal drugs that were confiscated in more than five years, close to six years, that is worth PHP89 billion. Imagine, if this huge volume of illegal drugs would reach our communities, how many would have been affected?," PNP spokesperson Col. Jean Fajardo told reporters in a press briefing at Camp Crame.
Fajardo's remarks came after the International Criminal Court (ICC) Prosecutor Karim Khan requested to reopen the investigation into the country's campaign against illegal drugs.
She also said the campaign was successful because those arrested are not only limited to small-time peddlers but also include foreign suspects and high-value targets.
"We will be concentrating more on drug demand reduction because this is what is left in our fight against drugs. It is because we focused more on the supply reduction program and this will be the trend of the recalibration of our fight against illegal drugs," she added.
Fajardo added that the PNP continues to work with the Department of Justice (DOJ) regarding the submission of documents in connection with the investigation of alleged abuses committed during anti-drug operations.
"We respect the ICC's position but just like what our SOJ (Secretary of Justice Menardo Guevarra) said, let's wait for the result of the investigation. As he said, there are a lot of cases and we were provided with a list and it will take more time for the Justice department to finish its investigation," she said.
Guevarra earlier said Khan should have waited for the DOJ's probe to produce more results considering that the investigation and prosecution of such cases would take longer than months.
Since the DOJ began its probe last September, five out of the 52 cases it reviewed have already been elevated before the courts.
At least 150 policemen are under investigation for their involvement in anti-illegal drug operations where deaths occurred.
Guevarra said 250 more cases of anti-illegal drug operations that resulted in deaths would be forwarded to the National Bureau of Investigation for investigation and case build-up. (PNA)