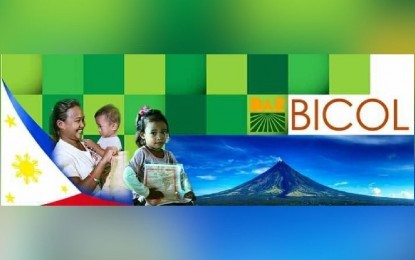 LEGAZPI CITY – A total of 215 farmer-beneficiaries in Camarines Sur and Sorsogon under the Comprehensive Agrarian Reform Program (CARP) recently received their certificate of land ownership award (CLOA) and computerized land titles (C-titles).
Gerard Buensalida, Department of Agrarian Reform-Bicol (DAR-5) spokesperson, said in an interview on Monday the distribution benefited landless farmers from five towns in both provinces, covering 344.895 hectares of agricultural land.
"In the province of Sorsogon, seven farmer-beneficiaries from Juban town were given their C-titles covering 18.9407 hectares of land while 64 agrarian reform beneficiaries received their CLOA with a total land area of 68.0892 hectares in Ocampo, Camarines Sur," Buensalida said.
Another 67 beneficiaries from Bangon, Lupi in Camarines Sur received land titles that covered 89 hectares, while 77 received their CLOA and C-titles covering 168.8396 hectares in Camaroan and Garchitorena, all in Camarines Sur.
Dominguito Mimay, 57, thanked DAR and pledged to fulfill his duties as a beneficiary.
He was one of the seven recipients of the Erquiaga Development Corporation estate in Barangay Buraburan, Juban.
"Dakulaon na pasasalamat sa DAR. Di ko hunaon na matapos ang pirang taong paghahalat, maabot ang panahon na talagang masasadiri mi na ang daga na ini. Makaaasa po kamo na ini samuyang aatamanon asin pagyayamanon. Salamatunon po (Big thanks to DAR. I waited so long for this title. I cannot describe how it feels to finally have it in our possession. Rest assured that we will handle this with care. Thank you so much)," Mimay said.
"CLOA is the regular certificate given to the beneficiary while C-titles are under the Support to Parcelization of Lands for Individual Titling project intended to fast-track the land subdivision of the Collective Certificates of Land Ownership Award," Buensalida said.
He said sometimes, a mother CLOA is shared by farmers, "that is why we have the C-titles to let each farmer have their own land titles".
"Ang mga titulo ay simbolo na kayo na po ang may-ari ng inyong sinasakang lupa. Ang pagtanggap ng titulo ay simbolo rin na nagampanan namin ang aming trabaho ng mahusay at matapat (The titles are symbols that you are now the owners of the land you are tilling. It is also a symbol that we, in DAR, have done our job well and honestly)," Romulo Britanico, Assistant Regional Director for Operations, said in a statement.
He advised the beneficiaries to cultivate the land and make it productive and reminded them of their obligations to pay the real property taxes and 30-year amortization to the Land Bank of the Philippines.
"May kaakibat po na responsibilidad ang pagtanggap nitong titulo. Hinihiling ko lamang sa inyo na ang lupa ay iyong pagyamanin at gawing produktibo (There is a responsibility that comes with getting your titles. I want you to enrich the land and make it productive)," he added.
From January 1 to May 21, DAR-Bicol has given agricultural land titles comprising 698.6576 hectares to 408 farmer-beneficiaries. (PNA)