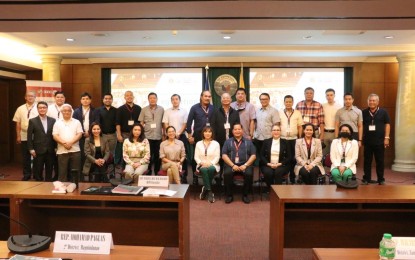 MANILA – Newly-elected lawmakers on Monday attended the commencement of the Executive Course on Legislation to better equip the incoming members of the 19th Congress with skills and understanding of legislation as it gears up for the next session.
House Secretary General Mark Llandro Mendoza said it is a three-day training program held prior to a new Congress to offer support to both neophytes and returning members so that they can be acquainted with the "ins and outs" of the House of Representatives.
The program is organized by the House Office of the Secretary General, in partnership with the University of the Philippines-National College of Public Administration and Governance (UP-NCPAG) Center for Policy and Executive Development (CPED).
In his opening remarks, UP-NCPAG Associate Professor and Dean Dan Saguil highlighted the importance of the legislative branch and its collaboration with other branches of government, as well as with the private sector, to achieve national development.
Saguil expressed hope that the seminar would equip the legislators so they can work on measures aimed at alleviating the plights of the Filipinos.
A total of 24 out of 28 legislators from Batch 1 attended on the first day.
During the first day of the course, UP-NCPAG Associate Professor Dr. Enrico Basilio discussed development concepts and approaches, as well as current issues and challenges in Philippine development.
He highlighted the importance of aligning policies with the sustainable development goals as these focus more on people who are the most important resource and who are at the center of any development being the initiator, implementor and beneficiary.
Basilio showed the framework where one should consider policy, environment, regulation, institution building and infrastructure development.
He cited as an example the Philippine Ports Authority (PPA) for its institution building and initiatives to take out conflicting mandates and functions.
On the other hand, he said there are infrastructure development proposals that are very important to catalyze the economic activities of the country.
On the regulatory side, Basilio said Congress should ensure that market players are behaving.
"(I am) glad that Congress passed the Philippine Competition Act that physically establishes the Philippine Competition Commission that is tasked to ensure no market player misbehaves or exhibits anti-competitive behaviors" he said. (PNA)