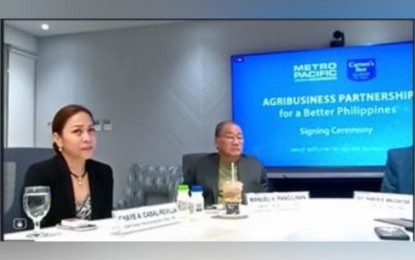 MANILA – From infrastructure and utilities to healthcare and real estate, the Metro Pacific Investments Corp. (MPIC) is now diversifying its investments into agribusiness, supporting the government's goal to strengthen the agriculture sector.
This, as the MPIC is investing in ice cream maker Carmen's Best Group to develop and expand the latter's dairy farm and dairy products manufacturing.
"The agricultural sector presents a wide range of possibilities that can help us achieve several goals –to strengthen the food supply chain and augment the accessibility of resources for all Filipinos as well as provide more opportunities for growth in an otherwise underserved business," MPIC chairman, president, and chief executive officer Manuel V. Pangilinan said Monday in a press briefing.
Pangilinan said this move is part of the company's plans to ramp up investments in agriculture that will help the government's goal of reducing dependence on food importation.
The MPIC also sees a huge opportunity in the local dairy industry as the Philippines imports 99 percent of dairy requirements.
"Ultimately, the country should aim for substantial independence in food. And we must feed our people first," he added.
Pangilinan said that with the conglomerate's interest in the dairy company, it eyes Carmen's Best products to be also exported to the global market.
Aside from its premium ice cream brand Carmen's Best Ice Cream, other products of the Group include Holly's Milk, as well as yogurt and artisanal cheeses under the brands of Carmen's Best Natural Cheese and Holly's.
On Monday, MPIC and Carmen's Best Group formalized the partnership.
Carmen's Best Group integrated the assets and operations of Carmen's Best Dairy Products, Inc., Carmen's Best International Dairy Company, Inc., Real Fresh Dairy Farms, Inc., and The Laguna Creamery, Inc. (TLCI) into TLCI.
With the partnership, the MPIC is now owning 51 percent shares and Carmen's Best Group maintains 49 percent equity interest in TLCI.
Pangilinan said MPIC aims for a soil-to-plate business model in its investments in the agriculture sector, which translates to an integrated supply chain. (PNA)