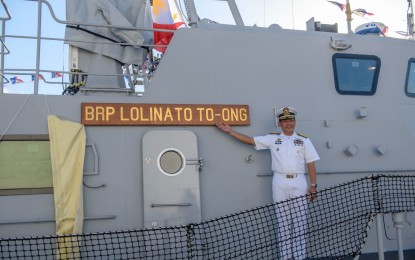 MANILA – The Philippine Navy (PN)'s first two fast-attack interdictor craft missiles (FAIC-M) were formally launched in Haifa, Israel last June 26.
Navy spokesperson Commander Benjo Negranza, in a statement Tuesday, said ranking PN officials and future crew members of the FAIC named BRP Lolinato To-Ong, graced the launch.
"Commodore Alfonso Torres Jr., Chairperson of the Pre-Delivery Inspection Team, and Commodore Roy Vincent Trinidad, Chairperson of the Project Management Team of the FAIC Acquisition Project, led the PN delegates in witnessing the launch of the new ships held at the Israel Shipyards Limited port," he added.
Torres, in his speech, also stressed Israel's key role in the success of the Navy's multi-purpose assault craft (MPAC) program.
He added that Israel paved the way for the FAIC-M acquisition project which includes a complete transfer of technology.
Torres said this is a first of its kind in the country's defense cooperation history.
"This project enables the PN to make a 'leap-frog' approach in strengthening our littoral defense capability in the areas of warfare, sustainment, and technical knowledge," he added.
Also present during the launch were Eyal Califf, Director of Israel's Ministry of Defense's Directorate for International Defense Cooperation (IMOD-SIBAT) for Asia and the Pacific, Sammy Katsav, Chairman of the Board of Israel Shipyards, Ltd., and Ran Tavor, Director of Rafael Advanced Defense Systems Ltd.'s Naval Division.
The launching is a prelude to the conduct of the pre-delivery inspection of these vessels from June 27 to 30.
The acquisition of the new craft is the latest in the PN's pursuit to become a modern and multi-capable naval force, responsible for protecting the maritime nation's sovereignty. (PNA)