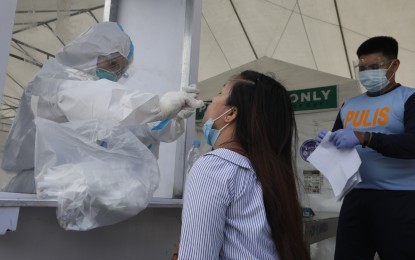 MANILA – Unvaccinated employees required to do on-site work in areas under coronavirus disease 2019 (Covid-19) Alert Level 1 classification will no longer be required to undergo real-time-polymerase chain reaction (RT-PCR) testing, Malacañang announced Tuesday.
Acting presidential spokesperson and Communications Secretary Martin Andanar said this comes after the Inter-Agency Task Force (IATF) updated testing requirements for unvaccinated eligible employees.
Based on updated testing requirements, establishments and employers must require eligible employees who are tasked to do on-site work to be vaccinated against Covid-19 in areas where there are sufficient supplies of Covid-19 vaccines.
However, for on-site work purposes, those who remain unvaccinated will be required to undergo RT-PCR tests once every two weeks or weekly antigen tests.
"Testing requirements mentioned above shall be waived for areas under Alert Level 1 classification, subject to the implementation of clinical-based management, including symptomatic testing," Andanar said in a statement.
The testing requirements will be reinstated in areas under Alert Level 2 classification or higher.
Exempted from this testing requirement are employees with recent Covid-19 infection within 90 days and those with alternative working arrangements that do not require on-site reporting.
Meanwhile, employees in the public sector, including local government units, may cover the costs of the RT-PCR or antigen tests to be administered, subject to the availability of funds, civil service, accounting, and auditing rules and regulations.
Metro Manila will remain under Alert Level 1 status until July 15.
The Philippines logged a total of 4,634 new Covid-19 cases from June 20 to June 26, which is 53 percent higher than the cases reported the previous week, according to the Department of Health (DOH).
Based on the DOH's weekly case bulletin, the daily case average for the week was 662.
This was an increase from the 436 recorded from June 13 to June 19, with 3,051 new Covid-19 infections.
On Monday, the DOH recorded additional new 867 coronavirus cases -- the highest single-day tally reported since March.
The country's total active infections likewise increased to 7,087 from Sunday's 6,761, the highest since April 2022.
To date, a total of 70,358,612 individuals, or 78.17 percent of the government's target population are now fully vaccinated against Covid-19. (PNA)