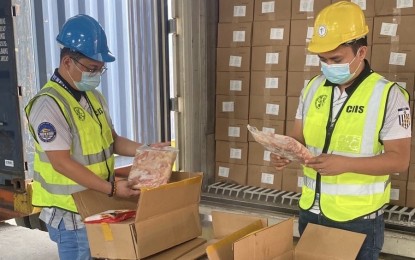 MANILA – The Bureau of Customs (BOC) on Tuesday said it has intercepted an estimated PHP85 million worth of illegally imported pork and poultry products at the Manila International Container Port (MICP).
Customs Deputy Commissioner for Intelligence Raniel Ramiro said the consignee Jeroce Consumer Goods Trading and its broker Gilber Gucilatar Lopez will face smuggling cases and other appropriate charges for the five misdeclared shipments that arrived on June 15.
Customs agents witnessed the 100 percent examination of five 40-foot containers on Monday at the MICP and found them to contain goods.
"The shipments underwent 100 percent examination and were found to contain frozen chicken thigh, frozen chicken breast, frozen chicken skinless breast, frozen chicken peeled breast, and frozen pork rectum with an estimated value of PHP85 million," he said in a statement.
CIIS director Jeoffrey Tacio said they received derogatory information that the shipments, declared to contain hotpot balls and steamed buns, were actually carrying frozen meat products from China.
"Upon receiving information and validation since previous shipments were already seized with the said violation, a request was immediately requested to MICP district collector for issuance of Alert Order or 100 percent physical examination," he added.
MICP District Collector Romeo Allan Rosales said they will immediately issue a Warrant of Seizure and Detention on the shipments.
Among the possible charges they may be facing are violations of Sections 117 (regulated importation and exportation) and 1400 (misdeclaration) in relation to Section 1113 (property subject to seizure and forfeiture) of the Customs Modernization and Tariff Act. (PNA)