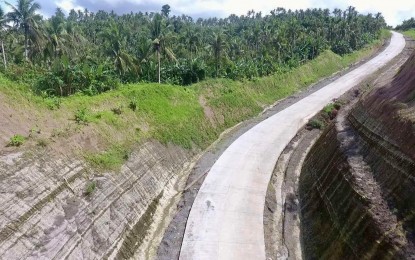 TACLOBAN CITY – The opening of the Simora Bridge and the 8-kilometer concrete road in Northern Samar will benefit over 5,000 poor residents in remote communities of the province, the Department of Public Works and Highways (DPWH) has reported.
The newly completed bridge and road section, part of the foreign-funded Samar Pacific Coastal Road, will benefit coconut and rice farmers in nine villages in the coastal towns of Palapag, Laoang, and Catubig in Northern Samar.
The PHP1.12 billion coastal road project will link the Pacific towns in Northern Samar.
"After four years of challenging construction, the partial opening of the Samar Pacific Coastal Road is a huge step to the realization of the vision to provide comfortable and improved interconnectivity that will support sustainable agricultural development, and contribute to food self-sufficiency program and sustaining peace and development efforts in Northern Samar," said DPWH Undersecretary and "Build, Build, Build" program chief implementer Emil Sadain in a statement released by the DPWH regional office here late Tuesday.
Sadain, Governor Edwin Ongchuan, Second District Rep. Harris Christopher Ongchuan, and the Philippine Army's 8th Infantry Division commander Maj. Gen. Edgardo de Leon led the project inauguration.
"There is an adage that says insurgency ends when the road begins. The provincial government is very optimistic that this road project will contribute to the eradication of the local armed conflict in this part of Northern Samar," the governor said.
Philippine Army 803rd Infantry Brigade commander Col. Perfecto Peñaredondo said the bridge completion will help eradicate issues being exploited by the New People's Army.
"It is very important to connect these communities to urban centers. The issue being exploited by the NPA that they are neglected by the government will become irrelevant," Peñaredondo added.
The onset of the pandemic and inclement weather conditions in Eastern Visayas brought major hurdles in the construction, according to DPWH.
The circumstance delayed the target full completion of the road project, which is one of the 119 infrastructure flagship projects under the "Build, Build, Build" program.
About 29 typhoons affected the project since it started in May 2018, hindering the work of its contractor Ilsung Construction Co., Ltd. of Korea, and partner Pacific Concrete Products.
Committed to fully completing the total 11.60-kilometer new two-lane road, the construction of the remaining 3-kilometer concrete road with two other small bridges is ongoing.
The project starts at the Simora Junction, and traverses to the remote coastal villages of Laoang, Catubig, and Palapag towns.
The project is funded by the South Korean government through Export-Import Bank of Korea. It is being implemented by the DPWH Unified Project Management Office.
Before the bridge completion and concreting of a road section, residents of Palapag and three other Pacific towns -- Mapanas, Gamay, and Lapinig-- need to cross a river to Calomotan village of Laoang from the port in Pangpang village in Palapag town, then take a boat ride to the port in the town center and ride another pump boat to cross the river going to Rawis village. (PNA)