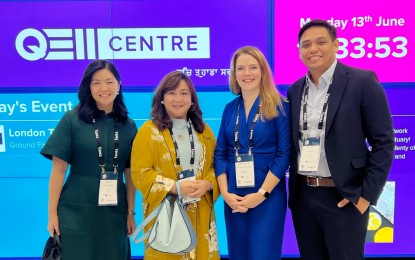 MANILA – The United Kingdom (UK) is eyeing to strengthen its trade partnership with the Philippines through partners in the financial technology sector.
In a statement on Tuesday, GCash president and CEO Martha Sazon said the company represented the Philippines in an "intimate" roundtable discussion among tech representatives from the Asia-Pacific region (APAC) and top UK officials during the London Tech Week 2022 from June 13 to 17.
"It's a rare privilege to have been invited to an exclusive dialogue with the Prime Minister's closest advisors at 10 Downing Street. We had a very inspiring discussion on ways to leverage tech here to drive development," Sazon said.
During the meeting, UK Trade Commissioner to APAC Natalie Black said the Philippines is an "important partner to the UK," with the two countries' trading relationship worth nearly PHP134 billion.
"With total tech spending in the Philippines reaching more than £6 billion last year, I believe our digital trade partnership will only grow deeper and stronger with the help of companies like GCash," Black said.
She noted that GCash is the Philippines' "largest unicorn," having a valuation of over USD2 million, and is part of the APAC delegation consisting of over 250 investors, entrepreneurs, and government officials.
The London Tech Week 2022 is Europe's largest technology festival that covers digital innovations and future possibilities.
GCash was the lone representative of the Philippines in the financial technology (fintech) sector during the event, with Sazon holding talks with UK Trade Commissioner for Asia Pacific Natalie Black CBE, UK Secretary of State for Trade and President of the Board of Trade Anne-Marie Trevelyan and a separate meeting with UK Secretary of State for Digital, Culture, Media, and Sport Rt. Hon. Nadine Dorries MP. (PNA)