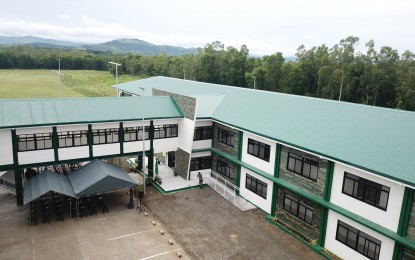 CITY OF SAN FERNANDO, Pampanga – The Department of Public Works and Highways (DPWH) has completed the construction of another military facility inside Fort Magsaysay in Palayan City, Nueva Ecija.
District Engineer Elpidio Trinidad, chief of the DPWH-Nueva Ecija 2nd District Engineering Office, said on Wednesday that the newly-completed two-story multi-purpose building of the Philippine Army is among the various facilities being implemented under the DPWH - Department of National Defense Convergence Program, also known as "Tatag ng Imprastruktura Para sa Kapayapaan at Seguridad (TIKAS).
The TIKAS program was initiated for the mutual benefit of the two agencies wherein the DND can mount projects with the DPWH while the soldiers shall safeguard infrastructure projects in conflict areas.
"The DPWH has established a very significant partnership with the Armed Forces of the Philippines (AFP), specifically with the various Philippine Army major units assigned to Fort Magsaysay. Rest assured that our office will continue to provide modern, durable, and high-quality infrastructure facilities that will help improve administrative and military operations," Trinidad said in social media post.
Major General Andrew Costelo, commander of the Army's 7th Infantry Division (7ID), for his part, said the new structure is the result of the army modernization efforts of the Duterte administration.
"We, at 7ID, are grateful that through the DPWH-DND Convergence Program, we have been provided with modern military facilities that inspire us to continue serving the people," Costelo said.
The PHP40.1-million facility is connected via a footbridge to 7ID's headquarters building and is expected to enhance infantry effectiveness and readiness.
The new facility is equipped with air-conditioning units, function halls for holding various events and seminars, an elevated water system, and a pole-mounted distribution transformer.
Security cameras, smoke detectors, mounted solar lights, and fire safety tools such as a fire alarm system, fire hose cabinet assembly, and fire extinguisher were also installed.
Other military facilities that are up for construction inside the Fort Magsaysay include the AFP Reserves Center, an officers' quarters, enlisted personnel barracks, 2nd Air Defense Artillery battery basing facility, mobile structures for the 2nd 155MM self-propelled battery facility, training barracks, and higher headquarters battery.
The Duterte administration has given its full support to the improvement of military facilities through the implementation of projects under the TIKAS program.
In 2021, the DPWH has implemented 10 projects amounting to PHP206 million inside the military camp that includes an Army Aviation hangar and a two-story administration building of the Light Reaction Regiment.
This year, some PHP304 million has been allotted for the construction of the various military facilities inside the camp. (PNA)