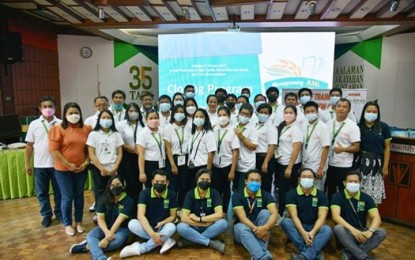 CITY OF SAN FERNANDO, Pampanga – About 29 agricultural extension workers in Central Luzon are now equipped with knowledge and skills to help farmers become more competitive.
The agricultural workers have completed a three-week training on high-quality inbred rice production, farm mechanization, and pest and nutrient management.
Lea Abaoag, head of the Technology Management and Services Division of the Department of Agriculture-Philippine Rice Research Institute (DA-Philrice), said on Wednesday, that this strategy of combined training was pilot tested in this batch of trainees.
"In this training, we combined the topics on producing high-quality inbred rice, farm mechanization, and pest and nutrient management, which were usually taught in separate trainings. This is to ensure a more efficient and effective training that strengthens the knowledge and skills of our future trainers," Abaoag said in a statement.
Before they participated in this training, she said the participants underwent an online refresher course for a week.
"Depending on the results of the evaluation of the course, combined training may be offered in the future," she said.
The 64-year-old Emma Tolentino, the oldest to graduate, said the training gave her valuable experience. She said she was first hesitant to attend the training because of her age.
But, she said the training facilitators made her experience easier, and she hopes to do the same for the farmers she will train in the future.
"Learning is a continuous process and part of that is sharing the lessons you learn with others. I can't wait to return to our barangay to spread more efficient farming practices," she said.
Ednalyn Florano of Bulacan said she is also excited to share her learnings with the farmers.
"I can't wait to become a facilitator because I know I'll be doing my best in imparting my knowledge on the PalayCheck System to the farmers. I am confident that they can learn a lot from me because the training equipped me with the right knowledge to do so," she said.
The participants' training is funded by the Rice Competitiveness Enhancement Fund-Rice Extension Services Program (RCEF-RESP).
The RCEF-RESP is a part of Republic Act 11203 or the Rice Tariffication Law which aims to boost the capacity of rice farmers. (PNA)